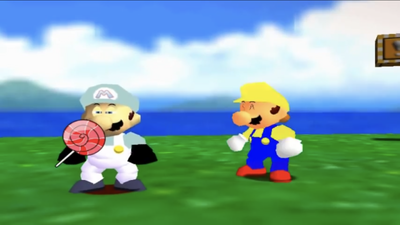 Alex and Derrick are one time characters in the SMG4 series.
They are two characters who have so far only appeared together in the video "SM64: ṩṩἔᾗмὄḋᾗᾄʀ 6.64(100k special Qna Edition) (100k Special QNA Edition)". Derrick was telling a guy named Alex (his friend) that he looks like a hushpuppy, annoying him. He also tells him that he sometimes pretends to be a hushpuppy. Alex then replys saying "I'M ENJOYING A TREAT, DERRICK!!!" as he gets incredibly annoyed.
Color codes
Alex
White overalls (like SMG4, MarioMario54321 and Ruffman8890's),
Lightslategray cap, arms and shirt,
Black gloves,
Dimgray shoes,
Normal face (as Mario, Luigi, SMG4 and many other guys'),
Brown hair (as Mario, Luigi, SMG4 and many other guys').
Derrick
Blue overalls (as Mario's),
Yellow cap, arms and shirt (like EpicYoshiFan's for example),
White gloves (as Mario, Luigi, SMG4 and several other guys'),
Red shoes,
Slightly orange face (we can't see that on the picture up on this page),
Orange hair (clear brown nearly orange).
Appearances
Gallery
Trivia
Community content is available under
CC-BY-SA
unless otherwise noted.