| | |
| --- | --- |
| | "I have absolutely no idea what's going on." |
STOP IT. THIS IS NOT OKIE-DOKIE.
⚠ Warning! a highly controversial Bill Cosby among the fanbase and is one of the leading causes of flame and edit wars! Please edit and comment with extreme caution!

Reason: Real-life controversies.

This article may also contain inaccurate, misleading, or shocking content, so please take it all with a grain of salt. If there is any biased information present in this article, please edit it out or ask other editors to do it for you!
Bill Cosby (real name William Henry Cosby Jr.) (born: July 12, 1937) is a former American actor who made a cameo appearance in the 2014 SuperMarioGlitchy4's video "Spells n' Wiztards,". which was released before his sexual assault cases scandal broke later that year and into 2015.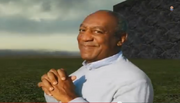 Appearance in "Spells n' Wiztards"
This video is actually Bill Cosby's only appearance in SMG4's bloopers. In this episode, he got summoned by SMG4 at the wizard academy Hobowarts (a parody of the wizard school from the Harry Potter series) during a spell competition held by Dumbledore, when SMG4 tried to summon a Pokeball. Bill never reappeared since, but it isn't impossible for him to appear in a future blooper.