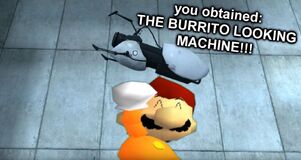 The "Burrito-Looking Machine" (A.K.A. The Aperture Science Handheld Portal Device) is a handheld device used to create portals. This device was first seen during the Season 6 blooper Portal M4R10 - If Mario was in... Portal
In SMG4: Mario Commits Tax Fraud, Yoshi was seen using one of this devices, which he stole from a prison mate, Then proceeds using it breaking himself and Mario out of prison. Yoshi later discards the device, knowing he won't be needed any further use of it.
Description
The "burrito-looking machine" (Portal Gun) is a hand-held device with three black cords coming out. It was designed to fire a colored projectile that creates portals. There is also a white cover below the front side. It has the Aperture Science logo on it, and on the back there is another white cover.
Trivia