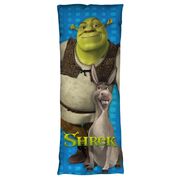 Dakimakuras are body pillows that have characters usually from the anime series on it (sometimes with movie/game franchises, etc.). Fishy Boopkins has an unhealthy obsession with them. He has shown that he keeps millions of these at his home however; he may now have less since Saiko decided to burn them due to her being aggravated by the pillows.
As shown in SMG4: High School Mario, Boopkins treats them like they were actual people as he tried feeding one of during lunch. Later on, when one of the body pillows get hit by an apple aimed for Luigi, Boopkins goes into despair as if it died.
Another body pillow of Solid Snake is shown in SMG4: Mario's Valentine Advice with Spaghetti attached to the head.
Gallery