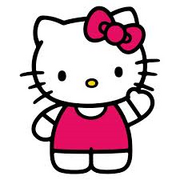 Hello Kitty (or just Kitty) is a minor character in the SMG4 series.
She is a white fictive kitty who is the mascot of the Japanese society Sanrio.
Appearance
Kitty's appearance is rather simple to describe. She's white, she has two small black eyes, a small yellow nose, and three whiskers at each side of her head. Her clothes are often pink, and she wears almost everytime a bow tie (often pink or red) or a flower on her left ear.
History
This episode, which revolves around the video game Super Hello Kitty Rollercoaster Tea Party 2, is Hello Kitty's first appearance in SMG4's bloopers, but she only appears with her friends on the box of the game when it's shown in an advertisement on the television while Mario is watching it (the red plumber then wants to buy the game).
At two moments of this video, which is in fact a song, a picture with a white kitty with spaghetti on her head is seen. That cat may or may not be Hello Kitty.
A Hello Kitty head doll appears in the third skit, in which SMG4, while he was telling SMG3 off, asked him what was a Hello Kitty, and then pulled his troll face next to a Hello Kitty doll.
Hello Kitty is mentioned by Mario which he states his favorite shows along with The Golden Girls and spaghetti advertisements.