This is a featured article!

That means it's considered to be one of the best articles the SuperMarioGlitchy4 Wiki has to offer.


You can still edit the article, but please be cautious when doing so. Thank you.
"

I think in the end... I'm just a guy who's trying to go through life. I'm not the smartest person, and I don't have much friends. But as long as I have my spaghetti, I'm good.

"
—Mario in SM64: Meet the Mario.

Mario Mario, also known as Mario the Sexy Plumber, is one of the two main protagonists (alongside SMG4) of the SMG4 series.
He is an idiotic Italian plumber, the best friend of SMG4, the abusive older twin brother of Luigi, the avatar of SMG4, SMG3 and the SMG4 Universe, the designated hero (a loose term, albeit not originally) of the Mushroom Kingdom, the former arch-enemy of Bowser, the former love interest of Princess Peach, and the co-leader of SMG4's Gang. Mario is an immensely dumb, narcissistic and troublemaking person, befitting the comedic nature of the series. Despite his good intentions, his selfish and stupid behavior often antagonizes and ruins people's lives. Yet when things are at their absolute worst, Mario proves capable of even an ounce of selflessness and compassion. He cares very deeply about his friends, especially his best friends, and his brother Luigi.
Roles
He serves as the main protagonist of Season 1, one of the two main protagonists (alongside SMG4) of Seasons 2 to 8, the main protagonist of The Waluigi Arc, a major character in The Rapper Bob Arc, the deuteragonist of Season 9, one of the three deuteragonists (alongside Fishy Boopkins and Saiko Bichitaru) of The Anime Arc, the deuteragonist of The Anime Arc Aftermath and SMG4 Movie: Meggy's Destiny, the main protagonist of Season 10 and The YouTube Arc and the deuteragonist of Season 11, The SMG4 Movie: 10 Year Anniversary Special, The Genesis Arc, Season 12 and the Revelations Arc.
Biography
Origins
As revealed in SMG4: Mario Babies, Mario was friends with Bowser in kindergarten , until they started fighting over a plate of spaghetti on a table. As they were too small to get to the table, they used numerous objects around to climb up to the table, (including a young Old Man Hobo, whose hair was accidentally burned out by Bowser) but upon Bowser noticing Princess Peach walking by, he became smitten with her and sabotaged the plan by taking one of the dolls Mario was using to climb to the table and giving it to her as a present. When Peach rejected the gift, an angered Bowser proceeded to grab her and hold her hostage. Mario, annoyed with Bowser, kicked away a Koopa Troopa Shell the future king of Koopas threw at him. The shell bounced back and hit the table with the spaghetti plate. Out of curiosity, Mario ate the spaghetti, finding it so tasty that he became obsessed with the food ever since and grew a mustache.
As revealed in SMG4: SMG4's Origins, Mario was once a normal intelligent plumber who was heroic and protective of Peach and the Mushroom Kingdom from Bowser. After the events of Super Mario 64, Mario and Peach, who still loved each other at the time, witnessed SMG4's Guardian Pod crash-landed in the Kingdom. They went over to inspect the Guardian Pod. Mario attempted to come closer to the Guardian Pod until it zapped him, turning him into a retarded glitchy parody of himself. Mario proceeded to get naked and threw the princess far into the sky, causing her to get furious with the plumber and thus becoming a naggy, bossy and selfish "friend" of his, as well as ending their relationship. SMG4, seeing this, proceeded to record Mario and post it online. This restored Mario's sanity, but still left him quite stupid. SMG4 then realized the potential he has by recording Mario's antics and from then on they become an iconic duo. One day, while SMG4 was filming Mario and Bowser spinning, they witnessed the arrival of SMG3 in his own Guardian Pod. When SMG3 chased SMG4 for calling him stupid, Mario told the camera to not do drugs. They later dumped SMG4's Guardian Pod into the Dark Web and accepted everyone had already become mentally unstable due to the Guardian Pod's influence. Mario then offered SMG4 a room for him in Peach's Castle.
Throughout the years, many different versions of Mario's backstory had been told, each of them contradicting his real one as well as each other.
According to Super Mario 64 Bloopers: How Mario was Born, he was born out of a cosmic event and crashed in Nintendo's headquarters. While on a playground, Mario reproduced (due to a problem in his genetic makeup) and gave birth to Luigi (which would make him Luigi's birthparent). After taking refuge in a dumpster, SMG4 found the two brothers and offered them jobs. Mario himself debunked this story, as the book detailing this was written by some hobo.
According to The (TOTALLY ACCURATE) Documentary of Mario, he was born in 1928 in Italy. However, Mario's Father was apparently disgusted at his appearance and tried to kill Mario with a combat knife to "prevent it from laying eggs." This incident was accidentally photographed by either his mother or a doctor for his celebration card, where Mario was mistaken for a girl. Instead of being happy though, his parents abandoned him on an alley (it was possible that it was the father's idea and the mother was reluctant) and sped off, accidentally crashing and dying. As a result, Mario grew up without any parental love, resulting in his stupidity and selfishness.
2 years later, he was found and taken to an orphanage where he met Luigi and formed a bond with him (though Mario would occasionally mistreat him). When he and Luigi attended high school, Mario wasn't much of a great student but was nevertheless popular at the time. He, however, had a tendency to dance in the shower and it was also here where his spaghetti addiction started. At some point, Mario started taking drugs. These led to horrible consequences, however, and he started acting completely insane and weird, such as trashing an office and speaking in German despite being Italian, spooking his classmates on a pool, dancing on the roof, and finally burning the school down to the ground, much to the principal Larry Fattman's frustration and resulted in him hating the man forever. As a result, Mario's reputation hit rock bottom, and it would take 2 to 3 years before he recovered.
Afterward, he and Luigi searched for a job and joined The Plumber Academy for Idiots, and though Mario did not graduate (as he apparently must have missed 3 years of class), he still got the job. Some years later, Mario was called by Peach to help clean up her castle (or as she put it, "clean her shit"). There he met Bowser for the first time and traumatized the Koopa King by making him drop his sandwich. Ever since then, Mario visited the castle more often (though his stupid antics resulted in Toad, who initially liked him, to hate him and everyone else in the castle, turning the once-happy mushroom into the grumpy midget he is today). At some point, Mario also became Nintendo's mascot, but due to rumors about him taking drugs again, he was fired but retained his mascot status.
Adventures
Click on "Show Adventures" to see a list of Mario's Adventures.
Appearance
Mario is a (possibly) 37 or 38 year old Italian human. Mario has fair skin, is short and stocky in stature, and is a bit portly. He has bright blue eyes, a big nose and a thick dark-brown mustache with six bumps. Mario has short brown hair with two sideburns, three large bangs pointing upwards, four short bangs point upward the back of his neck and a sprout-shaped cowlick.
He wears a red shirt and blue overalls with yellow buttons. He wears a red cap that has the "M" symbol for his name and wears white gloves and brown shoes.
Personality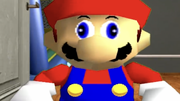 Prior to getting zapped by SMG4's Guardian Pod in SMG4: SMG4's Origins, Mario was just like he is in the mainstream Super Mario series; a friendly plumber who helped anyone in need, devoting most of his time to rescuing Princess Peach of the Mushroom Kingdom, and participated in sports matches, kart races, and "partied" often (which are all activities that he still does today, albeit in more crazy ways). However, after he was zapped, his personality changed completely. This made him a lazy, mischievous, foul-mouthed, reckless, idiotic, and occasionally selfish man-child.
While he truly cares for his friends and family, he seems to care more about only himself and his favorite dish spaghetti, which he is addicted to and refers to it as his girlfriend or wife, and would trade anything (including SMG4's YouTube Account) for it. This addiction went so far that he actually stole spaghetti from other people and almost never shares it with anyone (except for Meggy Spletzer in a rare instance). In fact, the mere thought of losing spaghetti will either drive him insane, make him cry in frustration and even commit suicide (which fails due to him always having extra lives).
Mario's extreme laziness has made him a hater of socializing (though it was temporary) and exercising. He also sometimes refuses to help his friends, family, and other people, even in life-or-world-threatening situations unless convinced, blackmailed, or threatened, making him somewhat of a sociopath with little empathy and patience for others. An example of this is in SM64 Bloopers: Shy Guy Showdown, where he flat-out admitted he did not care if the Mushroom Kingdom was going to be taken over by the Shy Guys, only stopping the takeover out of instinct and the fact that the Shy Guys would destroy the Kingdom's spaghetti supply. Another example is in SM64: Bad Star's Back! 300k Special, where he refused to stop the Ztar from causing chaos in Mushroom City, despite the Ztar's genocidal tendencies. The opposite has occasionally occurred, such as in SMG4: If Mario Was In The Sonic Movie, where he happily agreed to help Sonic avoid getting captured by the government.
Mario is also a rather cruel prankster, as shown in SMG4: The Demon Among Us where he ruthlessly pranked Shroomy in a flashback. The Anti-Shroomy personality did not take these pranks well, claiming it was all the more reason to kill Mario and the others. He is sometimes shown to be just as cowardly as Luigi, usually trying to back down from fights from powerful opponents.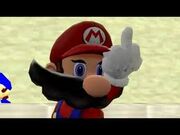 Mario is also very disrespectful and disobedient. He constantly does things that other people tell him not to (such as touching the painting leading to the Bootleg Dimension in SM64: THE BOOTLEG DIMENSION) which often causes problems for his friends and sometimes the world, though this behavior might be attributed to curiosity. According to a poster (fittingly called "Why Mario Sucks" due to the club's nature) in Mario and the SECRET CLUB, he always eats all the food in Peach's Castle and often never takes a bath when asked, further showing his disrespectful ways.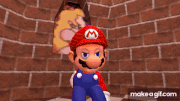 He is also very short-tempered, capable of getting annoyed easily, and always lashes out at people (including his own brother Luigi) when he reaches his breaking point, which also leads to his infamous quote "MAMA F*CKER!". Mario is also a sore loser, and can be very demanding and also spoiled.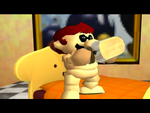 His biggest flaw though is his IMMENSE stupidity and lack of common sense, something to which even he admits, although he sometimes calls himself "smart". Though not as dumb as the likes of Frankie or Bob, Mario apparently did not know what was 1+1 or any number past 10 (aside from 1 million) until Baldi taught him math and had also forgotten how to type or how to count despite having been able to do so in earlier episodes. This also leads to him having short-term memory loss, constantly forgetting vital information (which is best shown in the Genesis Arc, which got in SMG4's nerves). This idiocy annoyed and even downright angered his friends (except for Meggy, who finds it incredibly hilarious), especially SMG4 and Toad, and they often mocked him, berated him for his foolish decisions, and even getting physical on him (sometimes subjecting him to brutal and unfair punishment), as well as insulting him with surprisingly harsh and homophobic slurs (such as "moron", "dumbass", and "retard"). His stupidity appears to have gotten worse in Season 12, where Mario almost consistently behaves with the mentality of a five year old. In SMG4: Mario Waits For The Bus, he screamed at the top of his lungs after Meggy took away the phone he borrowed from her, which causes the normally tolerant Meggy to almost leave (even calling him an idiot not worth helping), and in SMG4: Mario's Bus Trip, despite Shroomy's attempt to remind him, he doesn't remember that he needs to piss until it's too late, causing him to be extremely impatient and crashing the bus just so that he can pee.
Mario's stupidity has led to the Grand Mario Hotel greatly declining in quality, Nintendo to go into bankruptcy by using its money to buy food, unintentionally made Gabe Newell destroy his restaurant, the creation of some of SMG4's Gang's worst enemies, such as Roprinplup14, and a select few people to lose their minds to the edge of insanity (it is also shown in Super Mario 64 Bloopers: Plumber Academy for Idiots that he skipped 3 years of plumbing school and missed Kindergarten, forcing him to take them both all over again). Almost all of this led to Mario being brutally punished (due to some SMG4 characters being extremely vengeful and seeing violence and sometimes even murder as the only way to teach somebody a lesson), including being beaten to a pulp, burned to a crisp, crushed, blasted, shot, blown up, etc. As a result of this idiocy, many people tend to underestimate Mario and see him as worthless and useless, leaving it to the plumber to prove them wrong.
He appears to have Attention Deficit Disorder (which makes him incapable of listening or focusing on the task at hand), a few sociopathic tendencies (which relates to his occasional lack of empathy, as seen above, though he seems to be dropping this) Intermittent Explosive Disorder, and Bipolar Disorder (both of which are related to his extremely short temper).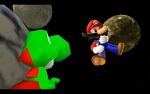 Although normally being unintelligent, Mario shows signs of being much smarter than he seems. Mario's first notable moment of intelligence was in SMG4: Stupid Mario World, where he was able to figure out that he and Yoshi would fall all the way down to Bowser's bouncy castle from space. In SMG4: If Mario was in... Fall Guys, when he finds himself unable to walk without slipping due to the floor being covered in ink, he uses an Inkling to skate back to the non-ink covered areas of the floor. In SMG4: If Mario Was AMONG US..., Mario used a green pillow as a decoy for the Green Crewmate to trick Xenomorph disguised as the Brown Impostor from being deprived from his gun. In recent episodes, Mario's stupidity seems to have completely disappeared, such as in SMG4: If Mario Moves, He Dies, where his intelligent side is more prominent: he relied on intelligence instead of his usual violence to solve his problems, such as when he was underwater, he extended his nose so that it would reach ground level for him to breathe. However, he seems to have gone back to his idiotic ways in SMG4: If Mario Was In... Nickelodeon, where he unintentionally destroyed the world by wishing for a giant plate of spaghetti and burning Dora's Grandma's house in search of food. Despite this, in said episode, he also used his intelligent side by asking Peppa Pig if she wanted to see how to make a portal to the netherworld in Minecraft, which allowed him to escape, and he also dressed Squidward in his clothes to trick Mr. Krabs and Spongebob into attacking him instead of Mario, and in SMG4: If Mario Was In.... SQUID GAME, Mario quickly spat out his unfinished dalgona piece to distract Meggy, and then got the upper hand by shooting her from behind while she was running away in sheer horror. The biggest example of him being logical and smart was in SMG4: The Super Mario Stupid Show, where he correctly theorized that SMG4 went insane to try and get millions of viewers.
The cruelest side of him is shown in SMG4: Mario Gets【Woke】 when he acquired the YouTube Remote that Susan Wojcicki dropped. Mario completely abused the device on everyone; friends, family citizens, all without regretting what happened to them, (including getting an electric eel biting Luigi's crotch and sending Axol into the Internet Graveyard which he then quipped that "nothing of value was lost"). Even after the remote broke, causing time to stop, Mario continued to torture characters like they were playthings.
Mario is also shown to go mad with power, as seen in SMG4: Mario The Supreme Leader where he turned the Mushroom Kingdom Government into a fascist government, which cost the lives of many citizens. However, he seems to have had a change of heart with this trait, no longer acting as cruelly as he did in said episode even when he reaches a certain degree of power.
He has a huge tendency to not take nearly anything seriously (unless it's something trivial, or only something he cares about). Even after learning that he is an avatar in SMG4: The Other Universe whose death would doom his entire universe, it seems that the only thing that he cares about is that he's technically SMG4's "papa", and thus made multiple unfunny jokes that only enrage SMG4.
Due to all the negative traits listed above, he is often seen as a mostly horrible, and sometimes almost irredeemably malicious jerk in some older videos, and only a few rare times in more recent episodes, though that is not truly the case. This led to SMG4 and friends briefly creating an entire club dedicated to hating and demonizing him. Additionally, Mario's stupidity and terrible reputation led to several members of the Kingdom absolutely despising him and wishing him to die.
However, despite his amazing flaws, Mario is still shown to have a speck of his canon personality from the Mario series. He can be very good-hearted, helpful, and kind, and does indeed care about his friends and family, despite what the above paragraph says. This is prominently shown in SMG4: If Mario was in... Fall Guys, where after learning about the truth behind Ernie's actions, his ultimate goal was to take the crown and return it to it's rightful owner King Bert to stop Ernie from his evil actions rather than giving it to Peach, who wanted the crown for her own selfish reasons. Mario could have easily used the crown for himself and acted as he did in SMG4: Mario The Supreme Leader, as with it on, he was able to command many Fall Guys to attack Ernie but did the right thing in the end. Another example of this is shown with Luigi, who despite normally being abused and insulted by him, Mario time-traveled to prevent himself from accidentally killing Luigi during a kart race, comforted Meggy when she first lost the Splatfest and was in utter distress when both of them were turned into T-Pose Zombies during The Waluigi Arc. During The Anime Arc, he was extremely desperate to find and save Meggy when she was abducted by Mario's former Anime Cartel boss Francis to extract her ink. At the end of the arc, Mario reveals that he is self-aware that his life has spiraled out of control, but nonetheless, he still cares about his friends. In The YouTube Arc, his closest friends were seemingly erased by SMG3, leaving the red plumber horrified, distraught, and alone. In SMG4: If Mario Was In... Nickelodeon, he wished for a pet axolotl for Melony to remind her of Axol and comfort her about his loss. He is shown to have a more kind side in both Super Mario 64 Bloopers: My Best Friend Slenderman and SMG4: Mario Vs Siren Head, where he was the only one to be nice to both Slenderman and Siren Head, and tried to make them fit in the world . In the former, Mario even scolded other people for being afraid of Slenderman. In Seasons 4 and 5, he was portrayed as far more competent and likable than his earlier and later appearances, but ever since the debut of Meggy, and to a lesser extent, Tari, his compassionate side became more prominent, and his sociopathic tendencies lowered down.
In Super Mario 64 Bloopers: Smart(ass) Mario and SMG4: If Mario Was Smart, both of which had Mario becoming smart, he displayed a different personality. In the former, he unintentionally mistreated everyone in the castle due to him forgetting their identities, and even lost his love for spaghetti. In the latter, Mario used his intelligence to help his friends with their problems, and was much kinder and polite to them than in general. However, his spaghetti addiction still remained, and eventually began to hate his friends for treating him like junk for his former idiocy, which resulted in him trying to steal all the spaghetti in the world. At the end of the episode, he begged the others not to turn him into his old dumb self, believing he would lose any meaning to life.
In SMG4 Christmas 2019: Mario Alone, he was shown to go through a deep depression whenever he feels lonely, to the point where he made crude dolls of his friends.
SMG4: Uncanny Mr Mario reveals that if Mario ever discovered that his whole life was just a simulation and that everyone he knew was fake, he would become uncharacteristically depressed and will commit suicide.
Mario's Smash Or Pass: All Mario Characters reveals Mario has a fetish for being sat on and crushed, stating it's his favoured way to die and he has an extreme aversion to sharp teeth and spikes (and Spikes for that matter).
Criminal Record
Throughout his misadventures, Mario has often broken the law in some episodes, either accidentally, out of stupidity, or for a good reason.
Click on "Show Criminal Record" to see a list of his crimes.
Powers and Abilities
Weaknesses
Of course, Mario has weaknesses (though comparatively few compared with many characters):
Slow speed: Due to his high weight (at least 12,000 pounds which equals 6 tons), he is slow on his feet, as shown in 101 Ways for Mario to Die, The 1337 Police, and several other episodes, though this isn't much of a flaw. However, he was recently shown to have superhuman speed.
Lack of common sense: Mario is one of the most stupid characters (if not the most stupid character) in the SMG4 series, not even knowing what 1+1 is until Baldi taught him math. It is so far his biggest weakness, as it cost him quite a few battles, despite his strength. However, Mario sometimes does shows signs of intelligence in some episodes, with the biggest example being SMG4: The Super Mario Stupid Show, which brings up the question if Mario pretends to be stupid and/or has an intelligent side. Despite Mario having insane abilities, including his ridiculous level of strength, he seems to never actually use it when circumstances require it, such as facing enemies/foes or getting out of a certain situation. This can also be tied to his cowardice.
Impulsiveness: Mario has a tendency to run into danger without a strategy. This caused him to lose several lives in SM64 Bloopers: Can Ganondorf come out to play?, get bombed several times by SMG3's Painting in SM64 Bloopers: SMG3's Gauntlet of Gloom, and almost got him turned into a T-Pose Zombie in SMG4: Mario and the Waluigi Apocalypse. This is a character trait not unique to him in terms of combat impulsiveness: Luigi on occasions runs into combat extremely recklessly when forced out of fear, or Meggy Spletzer, who often overestimates her capability, as it once got her turned into a T-Pose Zombie.
Poor Cooking Skills: Like Meggy, Mario has downright awful cooking skills, and whenever he turned an oven on, the oven would destroy Peach's Castle. In SMG4: Mario's Hell Kitchen, SMG4 deemed him useless and didn't allow him to help their team because of it (ironic, despite the fact that most of the other members of the team are just bad as him). Sometimes the occurrence of him failing to use an oven or machines is attributed to bad luck. Unlike Meggy, however, his cooking results aren't quite as bad and he sometimes even manages to succeed (though it's usually done with stolen ingredients).
Unable to Distinguish Fantasy and Reality: Mario very easily gets wrapped up in falsehoods and has been known to lash out and punish other residents of the Mushroom Kingdom for things he's seen fictional versions of themselves do in memes.
Megalomania: While normally contempt to be a humble plumber, any time Mario gets a measure of power, no matter how small leads to him quickly becoming a tyrant and despot, alienating his friends and setting in motion events to remove him from power.
List of Jobs
This is a list of Mario's Pokemans throughout the Super Pokeman 64 series.
When Mario starts to battle Gary's Groudon, Mario sent out his starter Pokeman Luigi. But Mario finished Gary's Pokemon by shooting it. It travels throughout the series. It can Mega Evolve into Weegee by Mario's Spaghetti (which acts like a Mega Stone). After he had seen Pengaz is chosen to be Mario's favorite Pokeman, he was abandoned.
Personality and Characteristics:
Luigi is a very timid, and a cowardly Pokeman, but he often helps Mario. Luigi becomes sad when he was abandoned, as shown in Super Pokemans 64: Legendary Pokemon. As Weegee, he has no emotion, but he can send a person flying with just a wink.
Cry- function unknown.
Punch- Uses his hand to punch the opponent.
Spaghetti- function unknown
Kick in the Nuts- function unknown
Thunder Smash- he turns into Fire Luigi, then he creates a fireball at his left hand and an electric ball at his right hand. Then mixes both and throws to the opponent.
Attract- Luigi dances to attract the opponent.
Hammer- Luigi brings out his hammer, and repeatedly hits the opponent with it.
Scratch- Luigi scratches the opponent with his two hands.
Spin Attack- Mario grabs Luigi, then Mario spins and throws Luigi to the opponent.
At first, it was a Foongus, until it evolved into Toad. It chased Mario to the lab, then it was caught. When Gary declares a rematch with Mario, Gary's Weedle sends Toad flying. After Gary's defeat, Toad returns panicking, attacking Mario in the process. It returned in Super Pokemans 64: Legendary Pokemon, it was sent out by Mario to kill Gary's Machoke in battle.
Personality and Characteristics:
Toad is a very wild Pokeman when it was encountered, but it was calmed when caught.
AK-47- Swag glasses falls into Toad's eyes then brings out an AK-47 and starts shooting the opponent.
Magiderp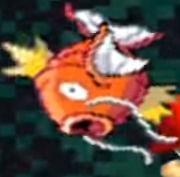 It was caught during the events of Super pokeman 64 bloopers: GYMS AND BADGES. It embarrassed Mario in front of strong trainers. It flew away while chasing Blaine.
Personality and Characteristics:
The trainer gets embarrassed when it was shown to stronger trainers.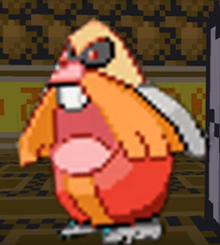 It was first heard by a man who suffered from a heart attack. Mario tracked it down by the man's diary, which led him to a cave. It kept running to the deepest part. Gary went to look at it, but after he had seen it, he angrily left it alone, then it was caught by Mario. Then Mario used it to destroy the girl blocking the path.
Personality and Characteristics:
Pengaz usually runs away from trainers when in the wild. Pengaz is a very useful Pokeman as shown in Super Pokemans 64: Legendary Pokemon, even though it looks a "lameass" Pokeman.
Egg Bomb- Pengaz releases an electrical shock from its mouth then the opponent explodes if hit.
Trivia
GMOD model
Adult
https://steamcommunity.com/sharedfiles/filedetails/?id=2374693880
Baby/Infant
https://steamcommunity.com/sharedfiles/filedetails/?id=289583637