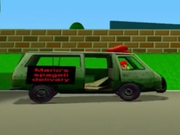 Mario's Spageti Delivary Van is vehicle that Mario useses in R64: Mario's Spageti Delivary.
It a normal van with a Mario hat and mustache. It can turn also turn into a toilet.
History
It first appears in Retarded64: Mario's Spageti Delivery where Mario use to deliver Spaghetti.
It made a cameo in R64: Mario for Hire. in the background when Mario was looking for a new car in the mall.