For other variation of Mario, see Mario (variations).
There have been many clones of Mario over the years in the SMG4 series.
List of Clones
Mario Clones
The Mario Clones were the first clones to have been introduced in the SMG4 series. They appeared first in Super Mario 64 Bloopers: Luigi's Payback trying to attack Mario and in Super Mario 64 Bloopers: Losing Your N64 one was trying to find a N64 because he broke the one of his brother too like the real Mario. Another one appeared in Super Mario 64 Bloopers: Bowser the Unhappy Fat Turtle though he doesn't do much.

The Cherry Clone Mario was Mario's clone from SMG4: Stupid Mario 3D World, created through a Double Cherry power-up. This clone instantly became friends with the real Mario after his creation to the point where Mario unintentionally forgot that he already had a brother as he believed that the clone must be how it was to have a brother. The clone got killed by Bowser after he got hit by a fireball which caused Mario to cry his death as he always wanted to know how it feels to have a brother.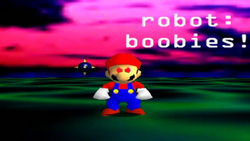 The Robot Clones are robotic version of Mario that appears in Super Mario 64 Bloopers: 4 Clones 1 Italian where four of them were created by Bowser, but in Super Mario 64 Bloopers: SMG3's plan to destory SMG4 cause he felt like it, only one of the Robot Clone was revived. It is unknown what happened to him afterward but he most likely became a forgotten villain.
The Mario's Clones are the main villains in Super Mario 64 Bloopers: Clone O' Mario. There are evil clones of Mario created by a cloning machine which caused them to take over the castle. It is unknown how Mario successfully solved the clone problem though the most logical explanation is that they were the same clones from 101 Ways for Mario to Die (The Right Way!) 50,000 subs!.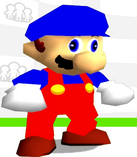 The Inverted Mario Clone is a minor character in the SMG4 series, debuting in SMG4: The Fan Written Episode (4 Mill Sub Special). As his name suggests, he is a clone of Mario with inverted colors. He was created when Mario completed the Fitness Gram Pacer Test under Ruffman8890's supervision. It is unknown what happened to the clone afterward though he most likely joined the Super Mafia Bros.

Trivia
Mario is one of the most cloned character in the SMG4 universe.