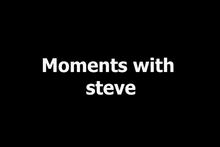 Moments With Steve is a series of skits starring Steve himself, created by SMG4. They only appear in Ssenmodnar videos, starting with Ssenmodnar 4. In each episode, it covers Steve's life, varying from real to unreal. Since Ssenmodnar 4, it is thrown into every Ssenmodnar episode appearing at some random point, although there are other skits starring Steve himself in Ssenmodnar and Ssenmodnar 2, which are possibly the predecessors to the creation of this series.
Episodes
This is a list of the episodes, with their respective descriptions.
Predecessors to The Series
This is a list of possible Ssenmodnar skits that probably inspired Moments With Steve.
And Now Steve's Guide to Playing Minecraft (from Ssenmodnar): As stated in the title, this is Steve's Guide to playing Minecraft: normally he only puts a block on the ground.
Steve Plays the Computer(?) (from Ssenmodnar 2): Steve tries to click the mouse, but, since he has no fingers, he ends up punching it. Then he types in random gibberish into Google, gets no response. Then he tries to play Minecraft but the computer crashes. Steve throws the computer at the wall and shouts: "ITS F**KING WINDOWS 98!"
Trivia
The beginning of the overworld theme from Super Mario Bros will always be heard on the title screen of this series.
Community content is available under
CC-BY-SA
unless otherwise noted.