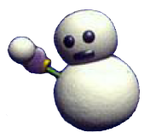 Mr. Blizzards are snowmen encountered in snow areas.
In SMG4's videos, they appear whenever Mario visits Cool, Cool Mountain or Snowman's Land. They tend to throw snowballs at Mario or SMG4 whenever they see them.
Due to SMG4's decreased focus on including Super Mario 64 enemies in his videos, their appearances are mainly limited to background appearances in the newer ones but they do tend to appear sometimes mainly when there's a snow environment.
Gallery