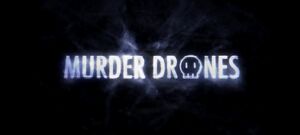 This content belongs to the Murder Drones universe, which is not related to the SMG4 universe.
This article is about the series. You may be looking for the species Murder Drones is an Australian computer-animated science fiction comedy-horror web series created by American animator Liam Vickers, produced by Glitch Productions and funded by Screen Australia for GLITCH. It is set to be the fourth animated series (third if not counting Ultra Jump Mania, which has only received a pilot) by Glitch Productions, after Meta Runner, Ultra Jump Mania and Sunset Paradise.
The series was teased on June 26th, 2021, and announced on October 8th, along with the release of a trailer. The pilot premiered on October 29th and the remaining episodes are aimed for a late 2022 release.
Synopsis
After humanity caused its own extinction by blowing up Copper 9's exoplanet core, causing a winter apocalypse, robots known as Worker Drones start to roam around until a group of Murder Drones start to murder them for... reasons.
Production
Liam Vickers had previously achieved notoriety for the 2D animated series CliffSide and Internecion Cube, both of which are unfinished. When he was picked up by Glitch Productions to be a showrunner, he had no experience in 3D animation, so the company would train him. The series would be created in Unreal Engine.
On August 6th, Liam released the full version of "Disassembly Required", the song that plays in the teaser. The video description reveals the character seen in the teaser to be "V", one of the titular Murder Drones.
By the time the series was announced, it had been worked on for one year.
In February 18th, 2022, Glitch Productions announced the full series is in development now at the studio, with a glimpse of Uzi in a new, unknown location.
Characters
Protagonists
Antagonists
Others
Minor Characters
Main article: Minor Characters (Murder Drones)
Episode list
Clips
| No. In Series | Title Card | Title | Airdate |
| --- | --- | --- | --- |
1

Nice Corpse House My Guy

October 22, 2021
Uzi enters a spire made of corpses and meets N.
2

Meet the Team

October 23, 2021
Uzi, joining the Murder Drones, talks with N, who introduces her to V and J.
Season 1
| No. In Series | No. In Season | Title Card | Title | Airdate |
| --- | --- | --- | --- | --- |
1
1
Pilot
October 29, 2021
Murder Drones is a show about cute little robots that murder each other for reasons 💀☒
Trivia
Videos
Gallery
Concept Arts
Early Screenshots
Merchandise
| | |
| --- | --- |
| | "I have absolutely no idea what's going on." |
Reference