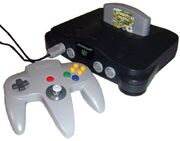 The Nintendo 64 (Japanese: ニンテンドウ64 Hepburn: Nintendō Rokujūyon), stylized as the NINTENDO64 and abbreviated to N64, is Nintendo's third home video game console for the international market. Named for its 64-bit central processing unit, it was released in 1996 in Japan and North America, and 1997 in Europe and Australia. Though succeeded by Nintendo GameCube in September 2001, the Nintendo 64 was sold until the system was discontinued in late 2003. In SMG4's videos, the Nintendo 64 first appeared in Losing Your N64 and has made several other appearances since.
List of Appearances
(NOTE: This list may be incomplete.)
Trivia
The Nintendo 64's appearance in SMG4 isn't the first time the console has appeared in a cartoon. The first and second times the console appeared in a cartoon were the Powerpuff Girls and Dexter's Laboratory, both of which were cartoons that aired on Cartoon Network during the late 1990s. [Fact check this please!]
In who let the chomp out, Peach can be seen playing Mario Party 9 on the N64 even though the game was only for the Wii.
Community content is available under
CC-BY-SA
unless otherwise noted.