This article is in severe need of cleanup!
Well, perhaps not in severe need, but we really need to fix it up! Grammar, vocab, whatever is needed, it's needed!


You may still edit the article, but please be cautious when doing so. Thank you.
| | |
| --- | --- |
| | "I have absolutely no idea what's going on. |
Pedobear is an internet meme mocking pedophilia. He is seen auditioning for Smg4's bloopers in Meet The Mario, where he was seen wearing a Mario hat. However, SMG4 rejected him for being the main character for the bloopers.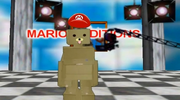 His most recent appearance was in Retarded64: Freddy's Spaghettiria where he was seen while Mario was flicking light switches and doorswitches.

He returns in SMG4: Mario's Dangerous Delivery in Frankie cell.