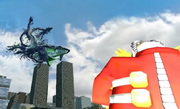 To see information about Perfect Chaos in-game, click here!
Perfect Chaos, an enhanced form of the villain Chaos in-game, is a monster seen in Sonic The Derphog: The Evilness Of Eggman(?) Originating from the Sonic franchise, it is the final boss in Sonic Adventure/Sonic Adventure:DX and the second boss in Sonic Generations. 
In Sonic The Derphog: The Evilness Of Eggman(?), Dr. Eggman creates him as a last minute way to prove his evilness to the world. Here, it's created by creating a rocket and launching it, rather than feeding Chaos the negative energy of the Chaos Emeralds. Upon its creation, however, it goes on to wreck havoc in the city. Despite being proud of his creation, and after an initial refusal, Eggman proceeds to stop Perfect Chaos, but fails and gets shot down. Toad (in his Toadwartho alias) then helps Eggman defeat Perfect Chaos by using his power of Doritos (finding one and using it to fly and crash into the monster). Perfect Chaos is successfully defeated in one hit and falls dead onto the city street.
He later makes a brief appearance in SM64: ṩṩἔᾗмὄḋᾗᾄʀ 9 - Time travel edition, but got shot down by MarioMario54321's Pingas launcher.
| | |
| --- | --- |
| | "I have absolutely no idea what's going on." |
| | |
| --- | --- |
| | "Man...this school is a coo coo crazy" |