R64: Mario's Spageti Delivary is the twenty-sixth episode of Season 4 and the one hundred and eighty-seventh overall to be uploaded by SMG4.
This is also the seventh episode in the Retarded64 series. It was aired on July 6th, 2014.
Sypnosis
the muhsroom kingdom's budget is all gone! godammit princess! it is up to mario to raise money again! but how? by selling spaghetti of course!
Plot
The episode begins with Mario dancing naked happily on spaghetti (Toad was nearby wishing to kill him) when Peach Toadstool suddenly appeared to inform him that the Mushroom Kingdom's budget had become 0, shocking Mario briefly before telling her he didn't care. Peach became sadly briefly before suddenly taking the spaghetti from him and selling.
Shocked at what she did, Mario declared they had no spaghetti to sell just for Luigi to open a door and reveal Mario's huge cache (and Toadsworth wearing a princess dress), ruining his lie. Mario could only run away in shame as Peach called him a b*tch.
As Mario was driving around in an old truck selling spaghetti (and getting irritated by the van's radio's choice of music to the point of throwing it outside and shooting at it.), he had a phone call. He shouted at it, causing the caller to hang up, much to Mario's confusion as he tried to say hello to no one.
With even more driving, Mario's GPS informed him that he had a new order (much to Mario's annoyance). Mario eventually reached the location and gave the person, EpicYoshiFan, the spaghetti, briefly refusing to let go as Mario eventually was forced to. Mario could only silently cry as he saw his spaghetti being taken away.
Suddenly, The Tubby Custard Salesman came up and sold Ruffman8890 some Tubby Custard. Amazed, Ruffman enjoyed it while the salesman threw away the spaghetti, calling it sh*t, much to Mario's chagrin as the two got into a fight. The salesman then tried to escape, just for his vehicle to come crashing down before exploding.
Later on, Mario's GPS reassured him that it was to just get money for Peach rather than show how awesome spaghetti was. Of course, Mario ignored that part and decided to show off how awesome spaghetti was anyway. Going around to random people, Mario just outright gave them the spaghetti for free. Everyone who Mario tried giving it to said it was sh*t.
Now driving in the Mushroom City, the GPS wondered where did Mario go. Apparently, Mario was at the top of the van throwing spaghetti at random people, who all thought it was sh*t. As he drove past him, FightingMario54321 said that spaghetti was over-rated. Mario pulled over, causing FM554321 to realize he was screwed. As he tried to back off after being surrounded, FM54321 bumped into the van where the sign came, revealing the van to be Mario's r*pe van. He could only scream as Mario did what the sign said offscreen.
Now back to normal business with the sign back on, a Koopa Troopa was asked if he wanted spaghetti. He asked if it was for free but Mario said no, causing him to show disgust before leaving. Suddenly, Mario saw the salesman from before. The two had a stare off (Steve was also somehow part of it selling drugs for free) before they both ended up demeaning their opponent. It ended with the salesman throwing the spaghetti on the ground, angering Mario into attacking him.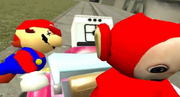 One assault on the salesman later, the salesman tried to speed away but Mario refused to let go and they both crashed into a wall. Having enough, the two transformed their vehicles into fighting robots (although Mario's became a toilet with his mustache). One insane fighting later, Mario ended up just destroying most of the salesman's robot.
Now driving off, the GPS insulted Mario's fighting skills (granted it was very bad) before asking if he had the money. Mario realized he did not. Peach suddenly appeared beside him asking for the money. Thinking quickly, Mario quickly distracted her by pointing at something non-existence. As Peach looked at the direction, Mario ran her over before flying off.
Characters
Main Characters
Supporting Characters
Minor Characters
Cameos
Trivia
References