.....A lawyer?
This page contains information on a subject that does not yet have an official name. Once an official name is given to the subject or character, this template can be removed.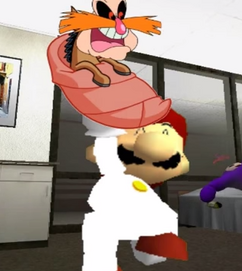 The Robotnik Horse is a minor character in R64: A Dose of Dr. Mario. The horse is seen at the very end of the blooper, as the newborn of a teletubby. It at first looked like a normal baby horse, but then sprouts a Robotnik head. It appears to be fluent of speech, as it can be heard saying, "Surprise, motherfucka!".
Quotes
Community content is available under
CC-BY-SA
unless otherwise noted.