.....A lawyer?
This page contains information on a subject that does not yet have an official name. Once an official name is given to the subject or character, this template can be removed.
| | |
| --- | --- |
| | "I have absolutely no idea what's going on." |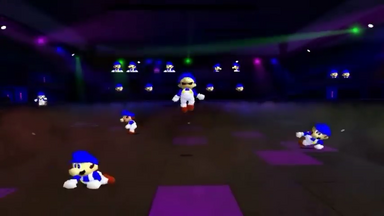 S.M.G Club Members were members of the Super Mario 64 Bloopers: S.M.G Club, possibly invited by SMG1. They believed the name S.M.G stands for Super. Mega. Gangstas. They coincidentally had the same exact color code as SMG4. A lot of them were gay. They had random names such as SMG47 or SMG52.. They were killed by Mario, who pressed a "Self-Destruct" button, which destroyed the club but also killed SMGDJ and rendered SMG1's legs missing, causing him to be renamed to "SMGay1". SMG1 tried to find his legs later.
Notable Members
SMG1

As The Director Of The S.M.G. Club

SMG3

As a Worker

SMGDJ

As a Worker

SMG35
SMG36
SMG46
SMG85
S.M.G Guards
Security Guard
Guy

In The Advertisement
Community content is available under
CC-BY-SA
unless otherwise noted.