SM64 Bloopers: Shell Shocked, often more simply called Shell Shocked, is the 252nd video released by SMG4.
This episode was aired on November 30, 2015.
Synopsis
SMG3 spawns a Crazy Koopa who goes on a rampage and steals Koopa's shells, including Bowser's. Now it's up to Mario, Bowser, and the rest of the crew to get that crazy Koopa and recover the shells, if they can.
Plot
The episode begins in SMG3's secret lair where he revives a dead Koopa with his invention after 9 months of work.
Meanwhile over at Club Pingas, Mario and the gang celebrate Toadsworth's 105325 birthday (later corrected his 64th birthday to Mario, which was last week), before he could finish, his face was blocked by Wario's butt. Steve then launched Princess Peach out of a cannon from the club outside, forcing Mario to go fetch her. Peach was unconsciousness and Mario thought of letting Bowser kidnapping her, he attempted to call him from his phone but went into voicemail, Mario then heads on over to Bowser's Castle.
When Mario looks inside, he was in complete shock that Bowser is naked, Bowser explains the reason he was naked that someone stole his shell. Bowser was too embarrassed to go outside, but this doesn't bother Mario and forcing him to go outside, as Peach awakens, she saw Bowser naked and jumps into the lava.
Mario tries to convince him that being naked is fine and also asks him if he can make a new shell, Bowser disagrees and remembers the fun times he had with his shell, which was too much information much to Mario's dismay.
Meanwhile another shell was stolen and they witnessed the Koopa who was stealing shells, SMG3 came along showing off his new invention before being knocked down by Crazy Koopa, Bowser asked SMG3 if his "invention" stole his shell which SMG3 tries to deny but then gets chased by Bowser. The Crazy Koopa then rides off with Bowser's Shell, stealing more Koopa Troopa Shells and going crazy.
Back at Club Pingas, Luigi wonders where Mario had gone till Crazy Koopa came bursting into the wall, he tries to speak but then Toad attempts to speak and translate its language out of stupidity.
Back to Bowser and Mario, they kept looking for Crazy Koopa till Mario saw a pile of knocked out Toads pointing towards Club Pingas. Realizing the Crazy Koopa is inside, Bowser comes up a plan. Back inside the club, Toad is still speaking and translating stupidity language till he was finally done.
The Crazy Koopa starts to attack with its shells he stole, terrifying everyone. Up above, Mario and Bowser attempt to sneak from above to capture Crazy Koopa, Mario said he should be the one to go down but due to his heaviest weight, he had to hold onto Bowser, it was going well till Starman3 was selling Butt Scratchers and got Mario's interest, dropping Bowser inside the club.
After Bowser falls and lands on top of Crazy Koopa, it starts to go on a rampage, firing a bunch of shells at Wario, who uses Toadsworth as a shield, Steve then sees a "Super sexy mode" button on the teletubby and presses it, causing Po to dance to which Crazy Koopa uses a blue shell to knock her out.
Back outside, Mario realizes Club Pingas is on fire, SMG3 starts ranting about taking over the world until he was punched far away by Bowser. The Crazy Koopa starts raging and turning into a even more darker version of himself and rides away with Bowser's shell. Mario then sets up a plan with the gang until he gave the signal, Crazy Koopa sees Luigi in a shell as a distraction, Bowser comes to attack the Crazy Koopa with his bike but brokes it. Wario attempts to get Crazy Koopa until he siked him out, crashing into Toad holding Toadsworth, SMG4 thought he was ready to fly and does so anyway, targeting and hitting Mario.
Crazy Koopa won but was then instantly killed by Dr. Eggman himself, jumping to 5 minutes earlier he returned to his Club only to realize it was burning.
The shells were returned to the Koopas with Toadsworth completely confused and then shocked by Peach all boned from lava. SMG4 recovers from being drunk. Bowser reunites with his shell and starts humping on it, Mario was briefly grossed out and then told SMG4 to look at naked ladies until he saw Bowser and exploding his head, getting mad at Mario and ending the episode.
Characters
Main characters
Supporting characters
Minor Characters
Cameo
Music
6:01 Boss Microgame Jingle - WarioWare D.I.Y.
Deaths
Several Toads got killed by Crazy Koopa.
Po dies in Club Pingas' explosion.
Crazy Koopa got shot by Dr. Eggman.
Trivia
This is Starman3's second and final 2015 appearance, though it's just another cameo.
When Wario charges at Crazy Koopa, John Cena's 2014 theme can be heard in the background.
The title is a play on the term "shell shock", which refers to mental trauma after exposure to bombardment.
SMG3 becomes a main antagonist in this blooper; it has been since Super Mario 64 Bloopers: Spells n' Wiztards.
This was the last blooper to have the Project64 screen in 4:3 Pan & Scan
A clip from Super Mario 64 Short - Mario Swag is used when Mario tries to convince Bowser to go outside.
Errors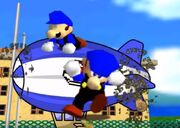 When Bowser is in his Gmod model, his shell can be seen, though this could possibly be due to having no possible way to modify the model in a week.

However, SMG4 could have used the Joint tool in gmod, which modifies a part of the ragdoll's body of increasing or decreasing its size, rotating, etc. Bowser's shell can be removed, though its plausible that SMG4 may have not learned it at the time.

At 3:01, when Crazy Koopa throws a shell at SMG3 on a blimp. We can briefly see the frames of SMG3 together.