SMG4: If Mario Was In... Nickelodeon is the thirty-seventh episode of Season 11 and the six hundred and forty-nine overall to be uploaded by SMG4.
Maestro Mano and various Nickelodeon characters all make their debuts. It was aired on October 9th, 2021.
Synopsis
You're about to find out what happens when you SMG4-ify Nickelodeon characters 🤡
Plot
Prologue
Maestro Mano, Master Hand's cousin invited him to visit Mexico to show him his new creation, Nickelodeon All-Star Brawl, featuring Nickelodeon characters to rival Super Smash Bros. Claiming that his roster is far superior than that of his cousin's, Master Hand decided to summon Mario to prove that Smash Bros is better than Nickelodeon. However, the Nickelodeon characters had other plans and took Mario away.
SpongeBob SquarePants
SpongeBob decided to cook Mario into a Krabby Patty to impress Mr. Krabs by boiling Mario into Krabby Patty acid. However, Mario broke free and beat up SpongeBob and Mr. Krabs. When SpongeBob summoned Patrick Star, who had Sans' powers, Mario ran into a room where Squidward was sleeping and put his clothes onto him as a decoy. This fooled Patrick and angered Mr. Krabs, causing the Krusty Krab to explode. Mario, who was outside, laughed at this outcome and ran off.
Mario was held hostage by Peppa Pig so he could see her play Minecraft. Mario had an idea and built a Nether portal that Peppa and her family went through, allowing him to escape. When Steve saw Peppa Pig, he charged towards her to fight; Peppa Pig does the same.
The Backyardigans
Seeing how the Backyardigans were singing badly, Mario decided to show them better (although mature music). As a kid Goomba watches the show, his parents became horrified about what he was watching that they sent him to an orphanage.
Jimmy Neutron
Forced to become Jimmy's servant or risk being deleted just as how Sheen was or being locked up like Hugh or Carl, Mario had an idea. Inspired by Jimmy's big head, Mario decided to gather all-known knowledge of the universe by reading the SMG4 wiki to grow a much bigger head to knock Jimmy over with his nose. Jimmy couldn't get back up because his head was too heavy.
Drake & Josh
When Drake interrupted Josh driving, they accidentally rammed Mario and were sent to prison for reckless driving.
The Fairly OddParents
When Mario accidentally rammed and killed Timmy Turner, he was greeted by Cosmo and Wanda who were shocked by Timmy's death, then decided to become Mario's godparents instead. As they claimed to make wishes, Mario initially bluffed at it until his wish for a dancing spaghetti became true, so he decided to go on a wishing spree while unintentionally causing havoc in Mushroom City.
iCarly
The SMG4 cast hijacked Carly's webcast and took over for the intro, with the theme song, Leave It All To Me being sung horribly.
Dora The Explorer
Dora and Boots were off to visit their grandmother when they found Mario burning her house down as he was angry that the grandmother did not have food for him. Just as it looked like Dora was creeping him out, Mario punched her, and took over the show by asking the viewers to search for food. As Boots ran away, Mario encountered Swiper The Fox, who took his hat away, which caused Mario to shoot him. Mario found the food, but was soon approached by police for killing Swiper.
Rugrats
As Tommy and Chuckie had the key to unlock the door outside, Mario gave them chase. When he found them, Mario tried to kill Tommy by using one of Stu's inventions. However, the ray hit Tommy's Reptar toy, which caused it to grow big and turn into Godzilla.
Epilogue
As Mario came running to the Mushroom Kingdom border, he was given chase by the Nickelodeon characters. As Mario was stuck as the border gate would not open, Maestro Mano ordered them to attack Mario, but since they were from children's shows their attacks were weak. Mario quickly showed how powerful he was by unleashing his Final Smash, defeating the characters. Grabbing Cosmo's wand, he burst opened the border gate and fled, while Maestro Mano looked on with contempt.
Characters
Main Characters
Supporting Characters
Maestro Mano (

debut

)
Cosmo (

debut

)
Jimmy Neutron (

debut

)
Swiper (

debut

)
Minor Characters
The Pigs

Curious George (as George Pig)
Warthog (as Mummy Pig)
Minecraft Pig (as Daddy Pig)

Pingu (as Pablo)
Pink Guy (as Uniqua)
Moose (as Tyrone)
Wanda
Dora
Shari (as Boots)
Tommy Pickles

With Stewie Griffin's head

Chuckie Finster

Millhouse Van Houten Re-color
Cameos
Names on Wiki Only
Continuity
Trivia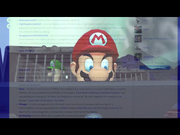 During the Jimmy Neutron segment, Mario gains intelligence by looking through this very wiki, primarily on the SMG4 series page.

This is the second time The SMG4 Wiki has been featured in an SMG4 episode, and the first to show off a Wiki page onscreen. The first time was in SMG4: She's Back!, where SMG4 scared Meggy by reading the opening section of the Genesis Arc's wiki page when he started to manifest himself in a demonic ritual.

Peppa forcing Mario to play Minecraft is likely a reference to the Peppa Pig Parodies video "Peppa Pig Plays Minecraft".
The pose that Mario makes when sarcastically wishing for dancing spaghetti is a reference to the Mocking SpongeBob meme.
Seeing that the Mushroom Kingdom borders Mexico, it is assumed that it is located in North America, possibly in the Gulf of Mexico.
This blooper was made to commemorate the release of Nickelodeon All-Star Brawl, which is considered by fans as the Nickelodeon version of Super Smash Bros, due to it's eerily similar concept and how many fans notice that some of the attacks mirror some of the attacks of Super Smash Bros. characters. Oddly enough though, only three of Nickelodeon's franchises that are represented in said game appear. Case in point, SpongeBob SquarePants, Jimmy Neutron and Rugrats.
Despite the fact it appeared on the video and that it airs in Nick Jr., Peppa Pig isn't actually a Nickelodeon-produced show, it was actually created by Astley Baker Davies and produced by Entertainment One.
This is the fourth If Mario Was In... video that's not themed around a specific video game. The first three were SMG4: If Mario was in The Sonic Movie, SMG4: If Mario Was In Meta Runner, and SMG4: If Mario Was In... Anime, even though this blooper's last segment is Nickelodeon All-Star Brawl.
Map is shown to have Cappy's eyes, marking the second time his eyes are used for a character, following SMG4: The Fan Written Episode (4 Mill Sub Special).
Although it was in the forms of pictures on the SMG4 series page, this blooper marks the first appearances of Shroomy and the late Axol since SMG4: War Of The Fat Italians 2021.

Hilariously, Zero makes a cameo as Crewmate representing one of the 0s in the number that Jimmy Neutron says.

Maestro Mano appears as Crazy Hand's de facto replacement for this blooper, as the latter only appears shortly at the beginning.
The reason Boots, the Backyardigans, the Pigs, and various of other characters looks different are because there isn't models for them in the Steam Workshop yet.
When Mario is scrolling through the wiki, Starman3's quick wiki summary can be read if we pause at the right time. This makes it the first time in a SMG4 video where his controversy is mentioned in-universe.
This episode significantly ran into several copyright issues only a few days after release:

The Peppa Pig theme song used in the Peppa Pig segment multiple times was copyrighted (possibly by ViacomCBS or Hasbro/eOne) on October 11, 2021, only two days after the episode's release.
The Cover of the song "Milkshake" used during the Backyardigans segment was also copyrighted on October 14, 2021, three days after the first copyright, possibly by SME [Sony Music Entertainment] (which its Arista Records unit distirbutes Kelis' music in the United States).
Music used
Can I sing a song for you?
This music list is incomplete and needs to be completed. Any user is obliged to do so.
3:07 - The Rake Hornpipe
3:26 - Undertale - Megalovania
3:43 - Super Mario 64 - Inside The Castle Walls
3:52 - Peppa Pig Theme Song (Peppa's Death Parody) [copyrighted]
4:06 - Peppa Pig Theme Song (Normal) [copyrighted]
5:23 - Frontyardigans - Into the thicc of it
5:39 - Kelis - Milkshake (Voice Crack) [copyrighted]
6:03 - Jimmy Neutron: Boy Genius Theme Song
7:03 - Village People - YMCA
7:17 - Deltarune - Rude Buster
7:59 - The Fairly OddParents Theme Song
12:46 - Lucky Star - Motteke! Sailor Fuku!
12:57 - Super Smash Bros. Ultimate - Menu Theme
13:27 - Undertale - Death By Glamour
References
Spongebob memes: Multiple references to memes from Spongebob SquarePants are used, which are: "Oh Yeah, Mr. Krabs!" (by YouTuber messinwithbigfoot in 2007), "maybe it's the way you're dressed" (referecing the split second of the word "Maybe" used to potray Sans' dialogue in Undertale), "I'll Cut Off Your Nutsack And Nail It To My Door" (An audio clip from the Director's Cut Version from the 2009 movie, Jennifer's Body said by his voice actor, Bill Fagerbakke), and "Mr. Squidward I Should Kick Your Fuckin' Ass!" (a short Youtube video by SilentManJoe).
OneyNG: Mario wishing for a gigantic spaghetti, only to unintentionally destroying earth is similar to the ending of Dragonzball PeePee were a giant balloon of Goku similarly destroyed the world he grew up with.
MeatCanyon: Audio clips spoken by the babies came from The Great Reptar Adventure.
The cameo of Chris Hansen in the Drake and Josh segment is a reference to Drake Bell's infamous arrest for attempted endangerment of children on June 4, 2021.