STOP IT. THIS IS NOT OKIE-DOKIE.
⚠ Warning!

SMG4: Officer Meggy

is a highly controversial blooper among the fanbase and is one of the leading causes of flame and edit wars! Please edit and comment with extreme caution!

Reason: Extreme criticism on Hal Monitor during the wake of George Floyd Protests.

This article may also contain inaccurate, misleading, or shocking content, so please take it all with a grain of salt. If there is any biased information present in this article, please edit it out or ask other editors to do it for you!
SMG4: Officer Meggy is the twentieth episode of Season 10 and the five hundred and seventy-fourth overall to be uploaded by SMG4.
This episode was aired on May 30th, 2020.
Video description
She protecc. She attacc. But mostly, she got her friends bacc.
Plot
At a police station in Aubergine, where it's shown that Hal Monitor was assessing Meggy on her intimidation skills, as training to become an officer of the Royal Mushroom Kingdom Police Department. They then went off to start Meggy's first formal training as an officer, but not before Hal Monitor played a video of Kawaii Mario dancing as a tool of torture towards the imprisoned Wario Bros..
The training starts in Justice Enforcement Mobile, where Mr. Monitor gave Meggy her official police uniform, exciting her to so far having her voice breaking windows. It then continues to a montage of Meggy taking notes on duties that are supposedly done by a typical police officer, demonstrated by Mr. Monitor with his 'unusual' set of skills.
The training was then finished, with Meggy and Mr. Monitor heading back to their home neighborhood of Belmont. As they were driving through the central business district, Mr. Monitor, with a suspicious look on his face, noticed a familiar group of Shy Guys, with their leader responding back with the same look, much to the curiosity of Meggy.
The duo later head back to Belmont, for Mr. Monitor to see his family (which seemed to be household appliances). As Mr. Monitor was greeting his family, they were then distracted by an emergency call for a suspicious activity in the residential area, in which they responded, and took off, being Meggy's first actual police duty.
The scene cuts to a neighborhood flat crowded with a Shy Guy gang, loading up some crates into a truck, in which Mr. Monitor had perceived them as human traffickers. Before they were allowed to intervene, Mr. Monitor had to give Meggy a gun, for this has been real. As they both intervened, all had their hands raised up with the exception of their leader, who was seen not to be afraid by them and threw a bomb as a distraction for the truck drivers to escape. Seeing them going off, the two gave chase.
A high-speed chase then ensued throughout central Aubergine, with Shy Guy goons trying their best to fend off from the police. The duo succeeded in taking down most of the Shy Guy goons, but as Mr. Monitor went to find the leader, he was gone, and had to escape as the truck collided with an office building, while the crates dropped. It is soon revealed that the "hostage" were actually monitors. (in fact, stolen monitors are perceived by Mr. Monitor as living beings) Seeing the leader escaping towards an abandoned industrial facility, the duo trailed him.
Inside, the two managed to find him. As Mr. Monitor tried to catch him, he was stopped by the leader as he cleverly sprayed water (his weakness) on him, as he held a monitor hostage. As Mr. Monitor lies wet and short-circuited on the ground, Meggy ran to him, fearing for his life. Seeing him died, Meggy had to do something to catch the criminal.
As the leader tried to escape via an opening in a warehouse, he was ambushed by Meggy, as she took out her gun to take him down, leaving him escaping. During the scuffle, it was revealed that he wanted those monitors so he could play Fortnite on the best quality. As Meggy tried to shoot him, she ran out of bullets as the leader tried to shoot her with his submachine gun he had. As Meggy tried to figure out what to do, she suddenly noticed a valve in a pipe and threw her gun at it to create steam and fog to distract the leader. Now alone with only Inkling voices that he heard, he tried to find her, but failed, as Meggy showed up behind him, and trapped him in a microwave.
Meggy returned and rebooted Mr. Monitor, who was quite impressed on what she did and praised her for it, although he stated that she's not ready to become a police officer fully, and she needed much more training to do so, which made Meggy very happy as she carried injured Mr. Monitor back towards the police car, ending their hard day at work.
Meanwhile, Luigi bought a replacement microwave for the previous one which had been broken by Mario, only to be shocked that there was the leader Shy Guy in it, leaving them screaming, ending the episode.
Characters
Main Characters
Supporting Characters
Minor Characters
Cameos
Deaths
Wario and Waluigi got burned by Hal Monitor after Hal Monitor opens Kawaii Mario dancing video.
Bob got crushed by Justice Enforcement Mobile.
One of Shy Guys got ran over by Shy Guy Leader's truck and Justice Enforcement Mobile.
The couples got killed by Shy Guy's Bob-omb after Meggy knocks it.
One of Shy Guys got shot by Hal Monitor.
Hal Monitor got killed by Shy Guy Leader's sprayed water.

later rebooted by Meggy
Criticisms and Controversy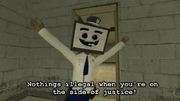 The episode has been controversial, especially Mr. Monitor's quote at the beginning of the blooper, "Nothing's illegal when you're on the side of justice", due to an incident on May 26th, 2020 in Minneapolis, Minnesota, United States where Derek Chauvin, a white police officer, killed an unarmed black man named George Floyd by pressing his knee against his neck, starting the nationwide George Floyd protests. These protests have resulted in the rise in popularity of the Black Lives Matter movement, which was established seven years before Floyd's death.
Many believe that SMG4 should have delayed or outright cancelled the episode due to its glorification of the police, given that at that time, police brutality was at the forefront of global discussion, while some tried to excuse the release of the episode. Others have noted that the Glitch Productions crew are based in Australia, and may have not been fully aware of the event's true scale at the time the blooper was released.
Continuity
Errors
Trivia
This is the fifth episode to end up being extremely controversial with fans: the first four were S̶M̶6̶4̶: `•.¸¸.•´´¯`••. .• ( Tubbie TV ) •. .••`¯´´•.¸¸.•`, SM64 bloopers: The Idea block., SM64: Mario joins the Circus, and SMG4: Boys vs Girls.
This is Meggy's first main role since SMG4: Meggy Moves In.
The video and SMG4: Mario VS Siren Head released at 10:00 AM (EST), due to the crew in Australia wanting to air new episodes earlier at 12:00 AM Sydney Time. They reverted back to their original timeslot starting with SMG4: The Demon Among Us.
This is the first episode to focus fully on members of the Royal Mushroom Kingdom Police Department.
A common running gag in the episode is a video of Kawaii Mario dancing to Mio Honda's Step!, a song originating from Bandai Namco's 2011 game The Idolmaster Cinderella Girls, in which it became a meme itself.
This blooper establishes Mr. Monitor's full name is Hal Monitor, contrasting with SMG4: Mario's Magical TV where his name was revealed to be "Mr. Hall Monitor".
When Hal Monitor introduces Meggy to the police car, he tells her that they "will be partners in crime for this ride", which may be a possible hint of Hal Monitor turning out to be a corrupt officer in the future, or even turning Meggy into a corrupt officer as well. However, this also might be just a joke.
This blooper thumbnail is almost identical to that of SMG4: Super Mario Taxi, with Meggy replacing Mario, Mr. Monitor replacing Luigi, and the police car replacing the taxi.
This is the final video in which Meggy speaks Inkling language prior to the YouTube Arc.
Meggy later left being a police officer as seen in SMG4: Mario VS Youtubers in the lights of the controversies.
References