SMG4: The Pawn Business is the twenty-first episode of Season 12 and the sixth hundred and ninety-eighteenth overall to be uploaded by SMG4.
The title was temporarily changed to SMG4: Mario Gets Scammed before reverting back to its original title. It was aired on June 11, 2022.
Synopsis
Meggy and Bob open up a Pawn shop. TIME TO HUSTLE.
Plot
The episode is presented as an episode of a reality show, with interviews in-between scenes.
When Bob lost the hotel to a casino as a result of a bad gamble in a game of roulette, he decided to open a pawn shop to get the money to buy it back. Meggy, who's house was in the hotel, became homeless as a result of Bob's idiocy and greed and now in debt, was forced to work for him.
Unfortunately, they had to make do with most of the items they had. Bob sold a can of beans to Fishy Boopkins for him to "put his ravioli" in it, only for him to regret doing that, while Meggy was still sour over Bob's past actions. When Mario came in to buy spaghetti, but when Meggy said there isn't, Mario got angry. Quickly, she got a shoe and claimed it was worn by a guy who made tomato sauce. This bought Mario over, who gave her his money and went away. Later, Luigi came in to pawn King Boo's crown he got as a reward for clearing a haunted mansion, and Bob wanted to buy it at $350, much to the dismay of Luigi, who later left to sell his crown on Amazon. Meggy, seeing Bob failing, decided to run the shop in her own way.
Unfortunately, an elderly robber happened to come to rob the shop and pointed his revolver at Meggy, who quickly disarmed the robber. However, as the police had arrived, they found Meggy with the revolver, and thinking she was the robber got her sent to prison. Feeling hopeless, it wasn't until she found a Freddy Fazbear plush in her pocket. She found Swag guarding her cell and convinced him to pawn the plush to let her out.
Bob decided to hide his shady pawn shop business and turned it into a flower shop, where a Koopa Troopa walked in to pawn his Superman comic book but was angered at the fact that he thought it was a pawn shop before Bob had it changed. When he was about to leave the shop, Bob took the opportunity to let his Piranha Plant abduct the Koopa to steal his comic book. Suddenly, Meggy return to crush Bob, but was later subdued by his Piranha Plant. Bob later explained that he hid the plush in her pocket just so to help her escape (but only to frame her to be the one behind the shady pawn shop actually). Meggy, now saw that he helped her get out, decided to help Bob run the pawn shop.
They collected enough money to buy their houses back from the casino, with one condition that the hotel is separate from Meggy's actual house to not have Meggy depend on Bob for living space. Bob later returned to the casino to tell the events of the episode, and gambled his soul on another game of roulette.
Characters
Main Characters
Supporting Characters
Minor Characters
Cameos
Opening advertisement
Music
Continuity
Deaths
| | |
| --- | --- |
| | "I have absolutely no idea what's going on." |
Multiple zombies are shot by Bob and Saiko.

opening advertisement

SMG4 was eaten by a zombie horde.

opening advertisement

A Koopa Troopa is eaten by Bob's Piranha Plant.
Old Man Hobo dies from drinking bleach sold by Bob Bobowski as an anti-age potion.

offscreen, debatable, revived
Goofs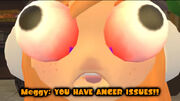 At 8:22 of the video, Meggy's Deluxe GMOD model was changed back to her old one, as seen threw her texture-less inside of her mouth.
Trivia
This is the first episode where Bob and Meggy are a duo.
Despite Mario's major presence in the thumbnail, Mario plays a relatively minor role in the episode.

Even so, the title of the episode was changed from "The Pawn Business" to "Mario Gets Scammed".
The title was reverted back to its original as "The Pawn Business", likely due to the realization that the alternate title was based on one minor event within the episode.

The dance Meggy does to promote the pawn shop in the start of the episode is similar to the recently-popularized Classic Sonic and Tails dancing meme.
This is the first episode to depict Karen in a casual outfit.
It was revealed that Meggy lost her home a few episodes ago.
This is one of the few episode where the Birabuto Kingdom remix is not used in the credits being replaced by Meta Knight's Revenge theme from Super Smash Bros. Brawl.
This marks the first appearances of:
A majority of the episode was edited by TheInvertedShadow, the same editor of the SMG4 Shorts and the Mario Does Things series, mostly on Meggy to give her smoother animation, mainly in the intermission segments of the episode.
This is the second episode in a row (and third overall) to feature full voice lines for Meggy. Considering Elsie Lovelock voiced 2 of these, and these are the first 2 appearances of Meggy since Elsie started voicing her (excluding SMG4: Mario reacts to Nintendo memes 6 ft. Tari), Meggy will be fully voiced from now on like Fishy and Bob.
As of this episode, Meggy's house and Bob and Breakfast 2 are finally separated from each other.
References
Five Nights at Freddy's: Aside from a plush of Freddy Fazbear serving a major role in the episode, William Afton trying to pawn off Gregory could be a reference to the final boss of Security Breach, where he fights him as Burntrap.
Breaking Bad: The scene where Meggy and Bob lay down on their money is a reference to a scene from this show.