STOP IT. THIS IS NOT OKIE-DOKIE.
⚠ Warning!

SMG4: The Resurrection

is a highly controversial blooper among the fanbase and is one of the leading causes of flame and edit wars! Please edit and comment with extreme caution!

Reason: Criticisms about the plot of the episode being about Greg rather than Desti from fans who refuse to accept her death as permanent.

This article may also contain inaccurate, misleading, or shocking content, so please take it all with a grain of salt. If there is any biased information present in this article, please edit it out or ask other editors to do it for you!
SMG4: The Resurrection is the third episode of Season 11 and the six hundred and eighth overall to be uploaded by SMG4.
This episode was aired on February 6, 2021.
Plot
After Mario finished his morning exercise, he was greeted by an alien spaceship. One of them tasked Mario to resurrect Greg, who was apparently the president of his home planet, Aelion. Seeing the opportunity, he gathered Meggy (who, upon hearing about Mario's plans, saw this as an opportunity to see if it was possible to resurrect Desti), Tari and Bob as his team (and exhumed Greg from his grave off-screen); they were given immortal powers and sent to Aelion.
Arriving at Aelion, they were surprised to see the planet in a state of chaos. After defeating an invasion, a citizen told them to go to a forest temple to resurrect Greg. They arrive, and were forced to defeat some enemies at the temple's outside. In the process, Mario ended up killing some alien civilians, forcing Tari to use her healing powers. Seeing this, the team tried to see if Tari could heal Greg, but it doesn't work, as an alien explained that those who are already dead can't be resurrected by Tari's healing ability. After this, they proceeded into the temple.
In the temple, Meggy read from an inscription, saying that one may become a god if he steps on the altar. It was Bob who stepped on it, and became God, with Mario telling him to resurrect Greg right away. Bob agreed, and used his powers to resurrect him. However, the process went rogue, and the resurrected Greg began shrinking Bob. Seeing the chaos, Meggy and Mario were forced to destroy the altar. Although it stopped the chaos and saved Bob, it did not resurrect Greg. Mario could only weep at his friend's lifeless corpse, while Meggy was disappointed that they couldn't revive him. Tari noted that it was not a good thing to resurrect someone from the dead, and that they still have each other to calm down the situation. Mario, however, ignores this, as he slaps Bob with Greg's body, begging him to ressurect Greg, leaving the ending vague as to what happens next.
Characters
Main Characters
Supporting Characters
Minor Characters
Cameos
Locations
Criticisms and Controversy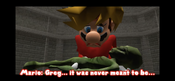 Although it wasn't as hated as SMG4: Boys vs Girls or SM64: Mario joins the Circus, the episode was very controversial upon release, and the reception was extremely divisive. While most fans enjoyed the episode, it was also criticized by others, primarily from fans of Desti, upon the release of this episode. Many fans thought Desti would be revived rather than bringing Greg back to life, even though SMG4 and his fans have tried to make it clear (to no avail) that SMG4 Movie: Meggy's Destiny was her final official appearance (not counting SMG4 2020 COLLAB SPECIAL/any other fan-submitted videos since these are fanon). They were also very disappointed that Greg didn't get revived in the first place, making the audience think it was a waste of an episode.
On other social media platforms (most notably on Reddit), many fans reached their breaking point and several claimed that this is the worst video made by SMG4, causing ranting and flame wars. As of the result of this, the staff on Reddit temporary disabled text posts (which were the main source of people complaining) until SMG4: The Melony Felony was released.[1]
Continuity
Music
Can I sing a song for you?
This music list is incomplete and needs to be completed. Any user is obliged to do so.
01:44 Pokemon Diamond/Pearl/Platinum-Battle! Legendary Pokemon
02:45 Wii Shop Channel Theme
03:02 Mario and Luigi Partners in Time- The Time Machine
03:51 Paper Mario: The Thousand Year Door- Luigi's Story
04:22 Mario Party 2- Space Land
04:40 Legend of Zelda: Majora's Mask- Clock Town (Day 1)
05:23 Super Mario Sunshine - Gelato Beach
06:32 Super Mario 64 - Slider
12:29 Legend of Zelda: Majora's Mask- Piano Practice (LOZ Gameover theme remix)
Deaths
Wii Fit Trainer is vaporized by a laser beam from the UFO.
Greg is returned to a corpse after the alter is destroyed.
Trivia
This is the 6th episode to be unpopular among fans, with the previous 5 being S̶M̶6̶4̶: `•.¸¸.•´´¯`••. .• ( Tubbie TV ) •. .••`¯´´•.¸¸.•`, SM64 bloopers: The Idea block., SM64: Mario joins the Circus, SMG4: Boys vs Girls and SMG4: Officer Meggy.
Prior to the release of this episode, it was leaked as it was accidentally listed as unlinked instead of private. It was quickly privated soon afterwards.

This is the first video to be accidentally released and leaked before an actual release date.
As such, it is the first video since SMG4: If Mario Was In Meta Runner to not have a preview photo on Reddit.
If the leak is counted, this episode is technically the first of 2021.

It's revealed that before he met Mario, Greg was the president of Aelion.
If the episodes from Season 10 are counted, this is the eleventh blooper to not have a variable opening, as well as the second Season 11 blooper not to have one, after SMG4: Mario goes to subway and purchases 1 tuna sub with extra mayo.
In the YouTube playlist for the SMG4 series, SMG4: The Intruder... was placed after this episode. It's unknown if SMG4: The Resurrection was initially intended to be released before that episode and that the airing dates were switched. It might also explain Meggy being upset about not having a passion during SMG4: The Intruder..., due to Desti not being resurrected.
This is also the eighth time Meggy swears, the instance is "I, aiiiiin't having that s**t!"
The video itself parodies its sponsor, Skyforge.
Seeing how the alien at the beginning of the video threatened to attack Mario's planet if they didn't resurrect Greg, and the team failed, it can be assumed that the episode ends on a cliffhanger.

However, considering the fact that that following episode was SMG4: The Melony Felony, it's most likely that this idea is false or scrapped, and the video itself is likely not even canon as a result.
It seems that the whole point of the video was to say that deceased major characters will never come back, a message that ultimately backfires, resulting in the following flame wars and hatred towards Kevin & Luke; the information in the video has since been retconned by SUNSET PARADISE - EP 10: Rebirth, which is canon with the main series, proving that people can be resurrected without a cost and/or consequence when the right method is applied, such as with a powerful wish-granting artifact, like the Dragon Balls (as mentioned by Meggy in one of her livestreams) or the Dream Stone.

Since SMG4 and the others have dealt with loads of magic-based situations before, the "permanent death" argument is rendered moot, especially since 1-Up Mushrooms still bring the dead back to life (so long as there's still a body or any traces of DNA, like a person's ashes, for example) as evident by SMG4: The Grand Mario Hotel which premiered after The Mario Channel: MARIOBUSTERS.
References