SMG4: Welcome To Mario Mart™ is the thirteenth episode of Season 12 and the sixth hundred and eighty-seventh overall to be uploaded by SMG4.
This episode was aired on April 16, 2022.
Synopsis
Mario will serve you now 🤡
Plot
One late night, Mario drove to a 7-Eleven in the outskirts of New Donk City to purchase some spaghetti, where he met Boopkins, who just got a job as the store's cashier to pay for his college expenses. He asked Boopkins to heat up the spaghetti for him, but when he lost patience, he broke the microwave trying to speed things up. This left Boopkins no choice but to go find a new microwave, so he left Mario to run the store.
The Old Man Hobo turned up to purchase eggs, but Mario told him that eggs were sold out. Still persistent to buy eggs, Mario forced a nearby Yoshi outside to lay an egg to give it to the old man, but he cracked it as he slipped on the floor trying to hold it, causing him to ask for another egg before Mario kicked him to the other side. Meanwhile, Boopkins was in New Donk City trying to find a microwave in the late night, and mistakenly went into a sex club trying to find one after he read "hot" from the sign saying "HOT GIRLS HERE".
Back at the store, Bob was trying to win the lottery due to covering himself with lucky charms, however lost anyway. To cheer himself up, he asked Mario to get him a slushie, but the slushie machine broke, causing Mario to kick it, hitting the ceiling causing a hole to form until it hit the floor. It then worked, firing a piece of slush on the Old Man Hobo. Bob then went near the slush pool and picked it up on the floor with a cup, and left. While Mario was inserting the old man into the machine to fix it, Meggy then went in to purchase a Splattershot as her old one broke down, but was a little pestered when she learned from Mario that she needed her ID card to purchase the gun or any firearms. When she did show her ID, it still had an image of her as an Inkling. Mario did not give the gun to her due to the photo of her on the ID not matching her current appearance. Angry, she exited the store. Meanwhile, Boopkins was in a forest trying to find a microwave, but was attacked by a stray Morshu.
When Bob overheard Meggy needed to get a new ID, he tried to convince her to steal the lottery machine, in return for her getting one, but failed as she decided to call her travel agency to get her ID changed. Bob then noticed Swagmaster trying to swindle Mario into purchasing his "Swagbucks", with Mario given instructions to not serve him. However, he caved when he was tricked into giving Swagmaster all the shops money after being told that each Swagbuck was worth $1000000. As Swag was exiting the store, Bob offered him a chance to "make more money", which involves stealing the lottery machine.
While Mario was distracted investigating the broken slushie machine, Bob and Swag tried to steal the lottery machine from above. Mario then noticed the disconnected plug; the reason why it did not work properly, and connected it to a nearby socket. The machine showed signs of function when the Old Man Hobo stuck in it began to spin, and as Mario was about to head back to the cashier, he spotted Swag trying to steal the lottery machine. With Swag spooked, causing Bob to shake the rope holding it, he lost grip of the lottery machine and it hit Mario. Meggy spotted what was going on inside, and entered the store and kicked Swag as he tried to run off with the machine. Bob then came to his aid after Meggy attempted to toss Swag out, causing a heated confrontation, when the slushy machine began glowing red.
Boopkins, on the moon, finally purchased a microwave from an alien salesman and was now heading back to Earth. Back at the store, the confrontation continued, with both sides throwing snacks at each other, but soon stopped when a monster, the Delicious Frozen Elder Slushie Man appeared (the slushie machine with arms and legs and Old Man Hobo's head on top.). Meggy and Swag tried to shoot the monster with guns, angering Mario, who was then hit by ink. Bob tried to take advantage of the commotion to steal the lottery machine, but noticed Slushie Man was holding Mario hostage. With Meggy knocked out and Swag useless, the reluctant Bob slammed the machine down, causing it to announce him the winner and shoot money. This knocks the old man off the machine, incapacitating the monster, while the old man goes back to wanting eggs. As Boopkins returned with the microwaved spaghetti, he was shocked to find the store ruined, with Mario, taking his spaghetti, leaving alongside Meggy, Bob and Swag, while Boopkins could do nothing but look on. The old man emerges in the black screen, saying "EGG." one more time.
Characters
Main Characters
Supporting Characters
Minor Characters
Cameos
Music used
00:10 - Buy Somethin' Will Ya!; Earthbound
00:52 - March Ahead; Paper Mario
01:19 - Goomba Village; Paper Mario
02:06 - Unknown
02:13 - Unknown
02:21 - Nook N' Go; Animal Crossing
03:05 - Shop; The Legend of Zelda: Ocarina of Time
03:45 - Cait Sith's Theme; Final Fantasy VII
04:23 - Forever Forest; Paper Mario
04:39 - Here's Some Weapons!; Super Mario RPG
05:50 - Veilstone City; Pokémon Diamond & Pearl
06:05 - Unknown
06:40 - Main Theme; Metal Gear Solid 2: Sons of Liberty
06:55 - Unknown
07:20 - Tension Rising; Kingdom Hearts II
07:39 - Mr. Resetti's Theme; Animal Crossing
08:03 - The Moon; Ducktales
08:07 - Unknown
08:10 - Let's Try; Super Mario RPG
08:13 - Unknown, same track as 08:07
08:22 - Boss; The Legend of Zelda: Ocarina of Time
08:26 - Unknown
09:09 - Eterna City; Pokémon Diamond & Pearl
Deaths
Slushie Man died after Old Man Hobo was separated from the slushie machine.
Continuity
Trivia
This is the twenty-third episode to turn a simple task into chaos. The first twenty-one are SMG4: Mario waits for pizza, SMG4: Mario Goes to the Fridge to Get a Glass Of Milk, SMG4: Mario Gets Stuck On An Island, SMG4: Mario Does The Chores, SMG4: Mario Waits in Line For Some Spaghetti, SMG4: Mario Gets His PINGAS Stuck In The Door, SMG4: Bowser Loses Custody Of His Children, SMG4: Mario Commits Tax Fraud, SMG4: Mario Runs Out Of Toilet Paper, SMG4: Wario Tries To Stop Himself From Dying, SMG4: Mario Scratches His Ass, SMG4: Meggy's Part-Time Job, SMG4: Mario goes to subway and purchases 1 tuna sub with extra mayo, SMG4: Mario goes to the dentist, SMG4: The Bed., SMG4: Mario has a BBQ but he's not invited, SMG4: If Mario Moves, He Dies, SMG4: Studying for Exams...But you're friends with Mario, SMG4: Mario Does Literally Anything For Views, SMG4: Mario Goes To College, SMG4: Mario Suffers Infinite Detention, and SMG4: Mario Waits For The Bus.
Mario's line, "No spaghetti?" is based off a meme of Megamind saying "No bitches?"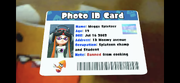 More of Meggy's personal information was revealed through Meggy's Inkopolis ID in this episode.

Meggy's birthday is July 16, 2002, making her 19 years old as of the episode's release date.
Her address in Inkopolis was: 13 Woomy Avenue.

This references her signature line of 'Woomy,' used a lot when she was an Inkling, and a few times as a human, courtesy of Lizzie Freeman.

Meggy's Occupation: Splatoon Champ (Formerly) and Student.

This suggests that in Inkopolis, being good at Splatfests is a worthwhile and sustainable career.

She's banned from cooking. (referencing her horrible cooking skills)

It is revealed that Meggy Spletzer has an ID card, but she hasn't updated it since she became a human after the events of "Final Hours", which serves as her conflict.

However, her age is inaccurately numbered as 19 (her current age) while it should be somewhere between 13 to 15 beforehand in their (outdated) ID. It is possible (but unlikely) that her ID has been updated but she has not submitted a new photograph.

The title of the episode is a pun based on Mario's line "Welcome to Mario Kart" from the Mario Kart series, specifically Mario kart 64.
Colorsphere's Meggy Spletzer inkling artwork is used for their (outdated) ID.