SMG4 Gaming formerly known as SMG4's Second Channel was SMG4's older gaming channel. It involved him playing games (mainly Wii games) such as Super Mario Galaxy, Mario Kart Wii, Super Smash Bros. Brawl, etc. The channel has since been replaced by Hobo Bros.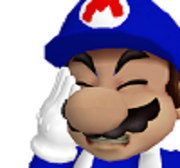 History
On June 30, 2014, SMG4 created a gaming channel where he played games and stuff. At the time, the channel was simply called SMG4's Second Channel. On the channel, he played various games, mainly those on the Wii. He played other games such as The Legend of Zelda Skyward Sword, Animal Crossing etc.
On November 22, 2015, he renamed his gaming channel to SMG4 Gaming to be more specific. He continued making videos as well as playing more games such as Legend of Zelda Windwaker, Super Mario Sunshine, etc. On November 28, 2016, he took down his gaming channel in favor of a new gaming channel with his brother, Kevin, called Hobo Bros. Such videos found on SMG4 Gaming were not backed up and/or reuploaded and as a result are lost forever.
Community content is available under
CC-BY-SA
unless otherwise noted.