SUNSET PARADISE - EP 4: Cat-sino Royale is the fourth episode of Season 1 of Sunset Paradise and the 30th video overall to be uploaded by GLITCH.
This episode was aired on June 18, 2021.
Synopsis
Meggy and Whisk go on the """"heist"""" of a lifetime.
Plot
Continuing from where the previous episode left off, Meggy trains Auri in order to prepare him for a fight the next time they encounter Whisk. The office then receives a call from Whisk herself, offering to hand Meggy her stuff back under some conditions. She tells Meggy to meet her at the crazy coconut theater and bring the mask. Meggy at the same time spots some suspicious rustling coming from a tree outside and assumes it was the thief. She throws the phone but it turns out to be Aziz trying to get ice-cream ingredients (which happens to be tree branches).
At the theater, Meggy tries to spot Whisk (thinking out loud) whilst being silenced by a theatre goer. Whisk threatens Meggy from behind with her laser gun and demands her mask back. Doing so, Meggy tries to surprise attack her but comes out short as Whisk successfully leaves the entrance to regain her composure (again silenced by the theatre goer). As Whisk thanks Meggy for returning the mask, she introduces herself properly and asks Meggy for a favor (and finally shutting up the theatre goer with her gas gun). Whisk wants to abandon her criminal career and to move on from working with her boss but in order to do so, Whisk asks Meggy that she needs to pull off one more heist in order to finally move on to another lifestyle. Although Meggy is hesitant at first on pulling off a heist, Whisk reveals that they are robbing Froy and Doy Maloy, who are far from innocent since most of their tricks are stolen from other magicians. Whisk mentions to Meggy that their underground safe is closed for fumigation due to a bug infestation. Because of this, the security is lowered giving Meggy and Whisk their only chance to rob it. Meggy hesitantly accepts but warns her that if she tries anything else, she will take her down.
The first part of the plan is to steal Froy & Doy's security keys. Whisk says that she will go after Doy while Meggy handles Froy. Before Meggy could ask any more questions, Whisk has vanished. Unsure on how to go about meeting Froy, Meggy looks around and spots the incapacitated theatre goer from earlier wearing glasses, hatching an idea. With the new pair of glasses she "obtained", Meggy meets Froy in his lodge and claims to be a journalist named "Melony". She manages to get an interview with him and make him talk about his origins. While distracted, Meggy attempts to steal the key on his table but his personal tiger growls at her. Meanwhile in Doy's lodge, Whisk tries to stealthily infiltrate his room and steal the key without him noticing. Whisk gets caught during Doy's heated phone call but is flustered when she realises her gas gun is gone. Out of the blue, Whisk grabs a prop wig and smacks Doy in the face with it, creating a dust cloud. Doy knocks himself out by running into a wall as Whisk impersonates him in order to end his phone call without suspicion. After Whisk walks away with her key, Meggy comes up fruitless as she can't avoid the tiger but manages to trick Froy into teaching her how to make the tiger attack someone which she uses against him in order to steal his key.
After they both go out of their lodge, Whisk gives Meggy a mask in order to succeed in her next plan. But while she tries to distract the guards of the safe elevator, a "lady" bump into Whisk, causing her mask to fall. The lady takes the mask in order to clean it as a way to apologize but being maskless makes Whisk panic and cradle on the floor to the point where Meggy improvises and manage to convince the guards that they work for Froy and Doy, using the two brothers as leverage so that they can use to threaten the guards if they don't do something to help with her "stomach pains". The guards leave in a panic to go get help for Whisk. She takes the mask from the lady and gives it back to Whisk and they access the elevator. In the elevator, Meggy tells Whisk that she reminds her of someone she used to know despite her being a criminal. Whisk briefly tells Meggy of how she never wanted to ended up a criminal, to which Meggy suggests to Whisk how she can change when the heist is done. Before answering, Whisk tells Meggy to hold their breath at the last minute and infiltrates the basement since it's shut due to the fumigation. After successfully evading the lasers, Whisk and Meggy access the safe. There, Whisk tries to put the money in the bag but accidentally pushed a diamond into a laser which forces them to escape due to the increased security.
Whisk saves Meggy from being intoxicated but once they reach the top, Froy, Doy and the security are there waiting for them. They easily incapacitate the security but while Meggy tries to command the tiger to attack Froy, she realizes that his ears are blocked. However, Whisk throws food at Froy, making the tiger attack him again. Doy tries to attack Meggy with deadly cards but she counters it with a table, knocking out Doy and the tiger decides to bite him. The two escape trough the ceiling where Whisk's "accomplice" controlling the hot air balloon gives them ropes to escape. Whisk gives him a coin and Meggy gets back her camera. Whisk asks what was so important about the camera but Meggy doesn't explain it. Whisk then tells her that they make a very good team and that they should work together in the future. Meggy reminds her that this is supposed to be her last heist but she reveals that it was the last heist where she steal for "someone" and that she will work for herself from now on. The "accomplice" is revealed to be Auri in disguise and he shocks her with a device he somehow placed on the mask. Auri then explains how he came to intercept Whisk and her heist (despite neither asking him). First, upon freeing himself, he quickly followed Meggy as he wondered what caused her to go after Whisk solo. In disguise, he disarmed Whisk of her gas gun while she was distracted as a cleaner (while telling Meggy where she hid), added a buzzer to Whisk's mask while as the nice lady (making Whisk wonder if he had to really dress up as a lady) and replaced her getaway pilot. As a last ditch attempt to promising to never steal, Auri declines as she tried to kill him and Meggy. Meggy suggests to Whisk that she can figure things out if she spends some time in jail, much to her disappointment.
Back in Auri's house, Meggy locks up Whisk alongside the Spud Buds as they ponder whether their boss is gonna be agitated. As Auri brings up that Meggy is finally back to enjoying her vacation after getting her stuff back, Meggy said that her vacation was to have fun and an adventure. Since seeing that helping Auri achieved both, she agreed to continue working as his partner, much to his joy.
Meggy got Auri over so they could look through the photos Meggy had on her camera, the main one featuring her with the rest of SMG4's Gang.
Characters
Main Characters
Antagonists
Supporting Characters
Minor Characters
Cameos
Mentioned
Trivia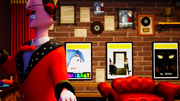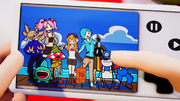 Reference