WELCOME TO SMG4 WIKI!
This is an online encyclopedia for SMG4 that anyone is free to edit. Please note that this site may contain spoilers if you are not caught up with all of the series' currently released content.
WARNING!: This wiki contains mature content and mild language. Viewer discretion is advised!
FEATURED ARTICLE: SMG3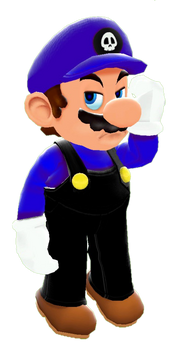 He is SMG4's evil doppelganger who is first discovered trying to copy SMG4's videos, and had attempted to kill him ever since. He (and Wario) were the people responsible for turning Waluigi back to normal at the end of WOTFI 2018. After the T-Pose incidents, he retired from villainy to start a therapy television series called Dr. SMG3 which is seen during The Waluigi Arc. It lasted until A Day In The Life Of Everyone where his therapy show is cancelled, and later started his own production company which is later destroyed, forcing him to go back to his dark ways. He is the main antagonist of The YouTube Arc, having seized Susan Wojcicki's YouTube Remote and used its power to erase SMG4 from existence and take his place as a YouTube juggernaut.

He lived in a colossal fortress located in an unknown realm, and his best friend isNintendofan996 (Nintendofan997's doppelganger). He also earned a psychiatric degree before the events of SMG4 VS SMG3.

As of Season 10, SMG3 now had original voice lines similar to SMG4's in the previous season. After a long amount of speculation, it is later revealed as James Bailey in SMG4: War Of The Fat Italians 2020.

After many challenges and a rap battle, SMG3 is defeated and sent into the Internet Graveyard for his abuse of the YouTube Remote. He made one last attempt in making his career again, but is then attacked by Ugandan Knuckles off-screen, finally ending his long rivalry between SMG4 and the latter's gang once and for all.
LATEST BLOOPER: "DELETED"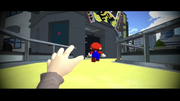 SMG4: Deleted is the thirtieth episode of Season 10 and the five hundred and eighty-fourth overall to be uploaded by SMG4.

The episode marked the Glitchy Massacre, and led to the downfall of SMG4's Gang at the hands of SMG3's Gang.
ABOUT SMG4
SuperMarioGlitchy4 or SMG4 for short, is an Australian teen web animated series created by Luke Lerdwichagul, appearing on the channel of the same name. It is the second adult animated series to be produced in Australia, the first being John Callahan's Quads!, and the first completely produced in its home country. The series is a parody of the Nintendo franchise Super Mario Bros (though it also features some original characters). where Mario, rather than being a hero, is usually kind of an idiot (however despite this, he did do some heroic things in the older episodes and still does it today). It had its first episode on May 7th 2011 with the first episode, the cake is a lie.
POLICIES

DISCORD
If you see this, your JavaScript might be disabled or DiscordIntegrator plugin isn't working. If the latter, please contact a wiki administrator.
Feel free to join our Discord server! We also have a brief documentation about the server that you should go over before joining.
OUR TWITTER
Please disable your adblocker to see this widget.
SMG4'S TWITTER UPDATES
Please disable your adblocker to see this widget.

Community content is available under
CC-BY-SA
unless otherwise noted.