WELCOME TO SMG4 WIKI!
This is an online encyclopedia for SMG4 that anyone is free to edit. Please note that this site may contain spoilers if you are not caught up with all of the series' currently released content.
WARNING!: This wiki contains mature content and mild language. Viewer discretion is advised!
FEATURED ARTICLE: Axol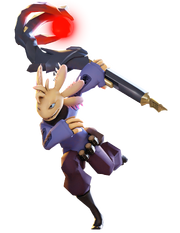 Axol was a modern main character in the SMG4 series.
He was a humanoid axolotl-creature and was the world's greatest manga artist, born in Inkopolis where he was bullied for his passion for anime, so he moved into Japan where he rose to fame. He was armed with a magic pen called the Inkweaver, that he used to bring drawings to life for a temporary amount of time. He eventually met SMG4 and his friends, and joined them to convince Peach Toadstool to lift the anime ban and later defeat Francis on Anime Island. From SMG4: Deleted to SMG4: A Totally Normal S̷͍͖͉̙͚͎̑̃̿͑̆̇̚͠M̸͇͇̦̮̌̿Ğ̴̫̗̖͎͔̳4̶̞͇̰̎̀́̚ Episode, he, along with Toad, Bowser and Shroomy, were the remaining surviving members of SMG4's Gang, as others (apart from Mario) were sent to the Internet Graveyard until they were rescued by Mario. As of SMG4: The Internet Graveyard, the lack of a proper time perspective in the Internet Graveyard, the length of time spent in it, and his Inkweaver being broken has caused him to be mentally insane. Not only that, but he had also got himself a scar. However, since SMG4: Food Wars, he has recovered from his insanity, but was still unable to use the broken pen and became a washed up artist, having lost the power of the Inkweaver as well as the quality of his anime until he fixed it with Mario's help in SMG4: If Mario Was In... Anime.
In SMG4: Mario and The Backrooms, Axol was possessed by SMG0, resulting in him becoming corrupted and demonic and ultimately becoming the secondary antagonist of the Genesis Arc which resulted in his death.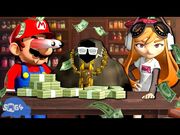 SMG4: The Pawn Business is the twenty-first episode of Season 12 and the sixth hundred and ninety-eightenth overall to be uploaded by SMG4.
POLICIES
ABOUT SMG4
SuperMarioGlitchy4 or SMG4 for short, is an Australian teen web animated series created by Luke Lerdwichagul, appearing on the channel of the same name. It is the second adult animated series to be produced in Australia, the first being John Callahan's Quads!, and the first completely produced in its home country. The series is a parody of the Nintendo franchise Super Mario Bros (though it also features some original characters). where Mario, rather than being a hero, is usually kind of an idiot (however despite this, he did do some heroic things in the older episodes and still does it today). It had its first episode on May 7th 2011 with the first episode, the cake is a lie.
DISCORD
If you see this, your JavaScript might be disabled or DiscordIntegrator plugin isn't working. If the latter, please contact a wiki administrator.
Feel free to join our Discord server! We also have a brief documentation about the server that you should go over before joining.