WELCOME TO SMG4 WIKI!
This is an online encyclopedia for SMG4 that anyone is free to edit. Please note that this site may contain spoilers if you are not caught up with all of the series' currently released content.
WARNING!: This wiki contains mature content and mild language. Viewer discretion is advised!
FEATURED ARTICLE: AXOL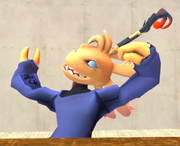 Axol is a character who first appeared in SMG4: The Japan Trip. He is a famous manga artist living in Japan. He wields a magic pen called the Ink Weaver which can turn the things he draws to life. He uses it to amuse fans and stated he will use it to defeat the Anime Secret Service in the end of SMG4: The Japan Trip.
It is revealed on SMG4: The Mario Showdown that he has some relationships to the Inklings due to how he looked at Meggy and his mention to his place of birth which is Inkopolis.
Axol was accused of abducting numerous Inklings so that he could continue bringing his anime characters to life, but he was innocent. However, it is likely that his ink Weaver is being used for nefarious purposes.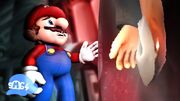 Mario and the Experiment is the twenty-eighth episode of Season 9 and the 499th overall to be uploaded by SMG4.
This is also the 10th episode of The Anime Arc.
Mario and friends are off to save Meggy. But what has happened to her?
Hope you guys are enjoying the anime arc! Be sure to tune in next week when HUGE events will be going down...
FEATURED POLL
Which character do you like?
BLOGS
Create blog post
Blogs
I just announced that i have recently adopted Meta Runner Wiki!

Proof: http…

Read more >

I feel I should rank the 2019 smg4 right now as I have watched all episode…

Read more >

I was bored during school, so I drew this picture in celebration of the (l…

Read more >
See more >
ABOUT SMG4
SuperMarioGlitchy4 (SMG4 for short, formerly Smg4 and also known as Glitchy in Mario in Real Life!?) (born May 24, 1999) is predominantly a Super Mario 64 machinimist. He also uses material from Minecraft, Garry's Mod, and other media. SMG4 devotes a lot of his time to making these videos, usually uploading a new video every weekend, and sometimes accepts works such as fanart from his channel's viewers and subscribers. In his videos, he often uses quotes, music, and stuff from other famous YouTubers like PewDiePie and Smosh as well as from movies, video games, memes, or TV shows. SMG4 heavily practices self-insertion, in that an SM64-styled avatar of him is one of the main protagonists (besides Mario himself) of the bloopers. From his debut, SMG4's character has been passionate and protective of his work; that aside, he seems to play the sane man who is often annoyed or shocked by Mario's crazy, flamboyant idiocy. But in most videos, they are friends.
POLICIES

DISCORD
If you see this, your JavaScript might be disabled or DiscordIntegrator plugin isn't working. If the latter, please contact a wiki administrator.
Feel free to join our Discord server! We also have a brief documentation about the server that you should go over before joining.
TWITTER
To use the widget, you must have disabled your adblocker!
POLL #1
Which recent blooper did you like most?
POLL #2
What would give "War of the Fat Italians 2018"?
SMG4 QUIZ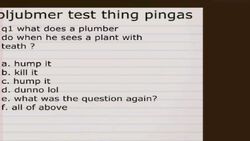 Try out your SMG4 knowledge in this Quiz.
NOTE: The quiz wasn't done created yet.