Peach Toadstool is a royal princess and the ruler of the Mushroom Kingdom. She owns and rules her own castle, which Mario and other characters normally reside in. She has made numerous appearances throughout SMG4's videos dating all the way back to his first one, The Cake Is A Lie.
Peach Toadstool is rather ditzy, bossy, and spoiled. According to "Ssenmodnar 6 (New Year's edition)", she confirmed she is a man, though this a lie. She likes to torture Mario at times, but is also shown to care for him, requesting Mario not to do anything stupid during the Tubby Purge that would potentially get him killed.
Peach likes to do non-princessy stuff when she is alone in the castle. It is shown on multiple occasions that she likes being kidnapped by Bowser, usually. Despite being bossy, she does care for everyone in the Kingdom, and helped stop the first T-Pose Zombies outbreak.
She is also a huge fan of gay movies, particularly Super Mario Twilight.
SMG4: Mario Goes to the Fridge to Get a Glass Of Milk is a video uploaded by SMG4.
According to SMG4's statement in the description: "We are back with weekly SMG4 episodes! And what a great way to start off the year with one big shitpost of a video lol"
Fun fact: This episode has Jeeves play an antagonistic role, as he (or rather Steve) milks cows to death.
FEATURED POLL
Which character do you like?
DISCORD
If you see this, your JavaScript might be disabled or DiscordIntegrator plugin isn't working. If the latter, please contact a wiki administrator.
ABOUT SMG4
SuperMarioGlitchy4 (SMG4 for short, formerly Smg4 and also known as Glitchy in Mario in Real Life!?) (born May 24, 1999) is predominantly a Super Mario 64 machinimist. He also uses material from Minecraft, Garry's Mod, and other media. SMG4 devotes a lot of his time to making these videos, usually uploading a new video every weekend, and sometimes accepts works such as fanart from his channel's viewers and subscribers. In his videos, he often uses quotes, music, and stuff from other famous YouTubers like PewDiePie and Smosh as well as from movies, video games, memes, or TV shows. SMG4 heavily practices self-insertion, in that an SM64-styled avatar of him is one of the main protagonists (besides Mario himself) of the bloopers. From his debut, SMG4's character has been passionate and protective of his work; that aside, he seems to play the sane man who is often annoyed or shocked by Mario's crazy, flamboyant idiocy. But in most videos, they are friends.

POLL #1
Which recent blooper did you like most?
POLL #2
What would give "War of the Fat Italians 2018"?
SMG4 QUIZ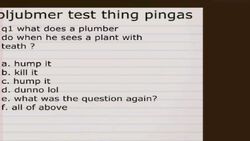 Try out your SMG4 knowledge in this Quiz.
NOTE: The quiz wasn't done created yet.