WELCOME TO SMG4 WIKI!
This is an online encyclopedia for SMG4 that anyone is free to edit. Please note that this site may contain spoilers if you are not caught up with all of the series' currently released content.
WARNING!: This wiki contains mature content and mild language. Viewer discretion is advised!
FEATURED ARTICLE: FRANCIS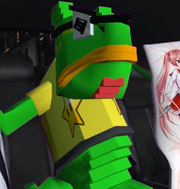 Francis is a nerdy chameleon and the main antagonist in Chapter 3 in Super Paper Mario. He is also the main antagonist of the 2nd half of the Anime Arc.
Francis is known as an obnoxious and egoistical chameleon who has an obsession towards anime and his waifus. He is also shown to be very stingy and commanding as he forbade Mario to join with his friends to go to Japan and ordered him to recover his profit that he lost to him.
Later it was revealed that he is power hungry and sociopathic who is very possessive of Ink Weaver and is obsessed with his plans to create the island full of waifus. It is plausible that the Ink Weaver drove him crazy with power. It's also implied that he will probably betray the rest of the Anime Cartel and not grant their wishes, as Axol attempts to warn two members of the Cartel that he will do so.
Fun fact: Francis being the antagonist was foreshadowed. Tari warned Mario that the Anime Cartel were bad news, as she mentioned in SMG4: Mario's Lemonade Stand. Furthermore, Bob asked if someone who liked waifus would ever resort to kidnapping, though it was also a joke. He also knew of the Ink Weaver. His base of operations is known as Anime Island.
SMG4: Mario Does The Chores is the fourteeth episode of Season 9 and the five hundred and third overall to be uploaded by SMG4.
This episode was aired on June 15, 2019.
Mario has been asked to do the chores around the castle... but he doesnt wannnaaaaaa
FEATURED POLL
Which character do you like?
BLOGS
Create blog post
Blogs
Ok forget MemeQueen21 I'm back! I'll try my best to be here as soon a poss…

Read more >

Do you guys know the "Date of death" part? For some reason it doesn't appe…

Read more >

Welcome, EMB2. This is the SuperMarioGlitchy4 Wiki! You can edit some arti…

Read more >
See more >
ABOUT SMG4
SuperMarioGlitchy4 (SMG4 for short, formerly Smg4 and also known as Glitchy in Mario in Real Life!?) (born May 24, 1999) is predominantly a Super Mario 64 machinimist. He also uses material from Minecraft, Garry's Mod, and other media. SMG4 devotes a lot of his time to making these videos, usually uploading a new video every weekend, and sometimes accepts works such as fanart from his channel's viewers and subscribers. In his videos, he often uses quotes, music, and stuff from other famous YouTubers like PewDiePie and Smosh as well as from movies, video games, memes, or TV shows. SMG4 heavily practices self-insertion, in that an SM64-styled avatar of him is one of the main protagonists (besides Mario himself) of the bloopers. From his debut, SMG4's character has been passionate and protective of his work; that aside, he seems to play the sane man who is often annoyed or shocked by Mario's crazy, flamboyant idiocy. But in most videos, they are friends.
POLICIES

DISCORD
If you see this, your JavaScript might be disabled or DiscordIntegrator plugin isn't working. If the latter, please contact a wiki administrator.
Feel free to join our Discord server! We also have a brief documentation about the server that you should go over before joining.
TWITTER
To use the widget, you must have disabled your adblocker!
POLL #1
Which arc do you like the best?
POLL #2
SMG4 QUIZ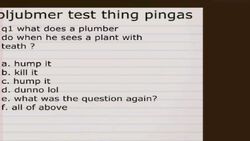 Try out your SMG4 knowledge in this Quiz
Community content is available under
CC-BY-SA
unless otherwise noted.