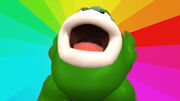 Fishy Boopkins (or "Fishy" or "Boopkins" for short) is a Spike who has become a major Character in SuperMarioGlitchy4's bloopers since his debut.
He's one of the last Boopkins, the other being his dad. He first appeared in SMG4 N' Pals: Seaside Stupidity Part 1 after SMG4 and co. were stranded in the Ocean and Fishy Boopkins offered to take them to land. He was captured by A.S. Swipe but he ultimately escaped.
Since then, he has made appearances on most of SMG4's latest products alongside Bob. He loves hot anime girls, he lives on a beach and was raised by Kermit The Frog and Laa-Laa.
SMG4: Mario Gets Stuck On An Island is the eighth episode of Season 9 and the four hundred and seventy-ninth overall to be uploaded by SMG4.
This episode was aired on Feburary 16, 2019.
Mario is stranded on a desert island. What will become of him!?
FEATURED POLL
Which character do you like?
BLOGS
Create blog post
Blogs
The world of SMG4 is far from normal. Anything can happen in this show, an…

Read more >

It was only 5 days until I were able to complete by 30 day streak on the w…

Read more >

A story arc where SMG3 frames Mario for robbing a bank.

SMG3 has come up wi…

Read more >
See more >
DISCORD
If you see this, your JavaScript might be disabled or DiscordIntegrator plugin isn't working. If the latter, please contact a wiki administrator.
ABOUT SMG4
SuperMarioGlitchy4 (SMG4 for short, formerly Smg4 and also known as Glitchy in Mario in Real Life!?) (born May 24, 1999) is predominantly a Super Mario 64 machinimist. He also uses material from Minecraft, Garry's Mod, and other media. SMG4 devotes a lot of his time to making these videos, usually uploading a new video every weekend, and sometimes accepts works such as fanart from his channel's viewers and subscribers. In his videos, he often uses quotes, music, and stuff from other famous YouTubers like PewDiePie and Smosh as well as from movies, video games, memes, or TV shows. SMG4 heavily practices self-insertion, in that an SM64-styled avatar of him is one of the main protagonists (besides Mario himself) of the bloopers. From his debut, SMG4's character has been passionate and protective of his work; that aside, he seems to play the sane man who is often annoyed or shocked by Mario's crazy, flamboyant idiocy. But in most videos, they are friends.

POLL #1
Which recent blooper did you like most?
POLL #2
What would give "War of the Fat Italians 2018"?
SMG4 QUIZ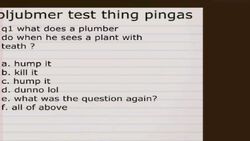 Try out your SMG4 knowledge in this Quiz.
NOTE: The quiz wasn't done created yet.