WELCOME TO SMG4 WIKI!
This is an online encyclopedia for SMG4 that anyone is free to edit. Please note that this site may contain spoilers if you are not caught up with all of the series' currently released content.
WARNING!: This wiki contains mature content and mild language. Viewer discretion is advised!
FEATURED POLLS
Click "Show polls" to reveal polls. This is done to take less space.
Which character do you like?

 

Which arc do you like the best?

 

Do you like the show so far?

 

Do you like War of the Fat Italians 2019?

 

Which SMG4 series do you prefer the most?

 

Which character is underused in 2019?

 

What is SMG4's best year?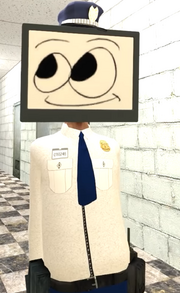 Mr. Hall Monitor, also known as Mr. Monitor, is a security guard debuting in SMG4: Mario School Club and later became the anti-heroic main antagonist of Season 10 of the SMG4 series.
Almost nothing is known about Mr. Monitor's past. According to himself, his father died at some point in his life. It was likely that event which pushed Mr. Monitor over the edge and gave him an immense hatred of what he deemed "illegal."
Despite appearing kind and normal, whenever he sees or hears disorder, he shows his true colors as a psychopathic mood-swinger who hates any type of disorder or illegal activity and will give out severe and gruesome punishments to anyone who does so, which includes tearing out genitals and organs and blowing victims up, sending them to the sky burning. He also attacks people whose crimes are justified or are incredibly minor issues (examples being when Wario was going to get across the street when there was a red light and Bob insulting him and the school). However, such actions of his made himself breaking police protocol, due to attacking the plaintiff without ever thinking. As a result of his temper, he is usually seen with a disturbing angry face.
SMG4: War On Beeg SMG4 is the nineteenth episode of Season 10 and the five hundred and seventy-third overall to be uploaded by SMG4.
This episode was aired on May 23rd, 2020.
Looks Mario has a beeg beeg problem.
ABOUT SMG4
SuperMarioGlitchy4 or SMG4 for short, is an Australian teen web animated series created by Luke Lerdwichagul, appearing on the channel of the same name. It is the second adult animated series to be produced in Australia, the first being John Callahan's Quads!, and the first completely produced in its home country. The series is a parody of the Nintendo franchise Super Mario Bros (though it also features some original characters). where Mario, rather than being a hero, is usually kind of an idiot (however despite this, he did do some heroic things in the older episodes and still does it today). It had its first episode on May 7th 2011 with the first episode, the cake is a lie.
POLICIES

DISCORD
If you see this, your JavaScript might be disabled or DiscordIntegrator plugin isn't working. If the latter, please contact a wiki administrator.
Feel free to join our Discord server! We also have a brief documentation about the server that you should go over before joining.
OUR TWITTER
To use the widget, you must have disabled your adblocker!
SMG4'S TWITTER UPDATES
To use the widget, you must have disabled your adblocker!
LATEST EPISODE POLL
Which November premiere did you like most?
SMG4 QUIZ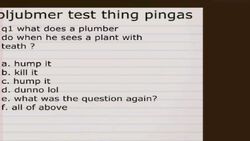 Try out your SMG4 knowledge in this Quiz

Community content is available under
CC-BY-SA
unless otherwise noted.