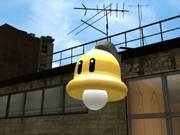 A Super Bell is an item from Super Mario 3D World which serves as a recurring object that first appeared in SMG4: High School Mario. It grants people cat powers. In SMG4, the bell makes a distinctive "fucking ring ring ring" sound, and due to this, it is commonly used as an alarm or school bell.
History
It first appears in SMG4: High School Mario as the school bell. It returns as an alarm in SMG4: Mario The Boy Scout, SMG4: Mario University, SMG4: Mario's Dangerous Delivery, SMG4: Mario's Hell Kitchen, SMG4: Boys vs Girls, SMG4: My Mario Academia and SMG4: Bowser Loses Custody Of His Children.
It returns in SMG4: War of the Fat Italians 2017 in SMG4's rap.
It appeared once again on SMG4: If Mario was in... Baldi's Basics.
A big one appears in SMG4: New Year, New Mario.
The bell somehow appears in a YouTube comment under the username "FOOKINGRINGRINGRING" in SMG4: MarioTube 2, daring Wario to have a stable life and source of income. Wario realizes he doesn't have this and falls to the ground crying.
In SMG4: Stupid Mario 3D World, its ability to turn those who touch it into cats is used for the first time.
Gallery
Community content is available under
CC-BY-SA
unless otherwise noted.