Super Mario 64 Bloopers: smg3's plan to destroy smg4 cause he felt like it is the thirty-third episode of Season 2 and the eighty-second overall to be uploaded by SMG4.
This episode was aired on May 18, 2012.
Synopsis
SMG3 is back and is eviler...than ever! He has summoned enemies from past videos and acquired new weapons and artillery in a plan to destroy SMG4 and his friends! What will they do!? Will they fight and win!? Or perish trying!?!?!?!?
Plot
At Peach's Castle, SMG3 appears, ready for his plan but Mario appears and shoots him, because he thought he was a Nazi zombie, knocking him off the bridge. Meanwhile, Bowser is dancing to the opening intro. SMG3 reappears and attempts to get Bowser to join his clan but Bowser disagrees and ends up being knocked off a ledge.
SMG3 was going to steal the Super Sacred Orb of Power from a shop but it was sold out. SMG3 returns to Bowser's lair and uses the damaged Nightmare Stone to resurrect many villains of the past including: X, Silent Guy, Bot, Robot Clone, Crazy Toilet Dude, Xboxfan996, John Gayham, The Monster, and Asian. Back at the castle, X senses that the villains are back and starts to spaz out on the floor, sensing doom. Mario and Toad notice this and Mario regards it as normal for X.
Back in Bowser's lair, SMG3 reveals that he resurrected the villains so he could destroy SMG4 and Mario. John Gayham suggests attacking the castle, but SMG3 refuses because it isn't cool enough. Asian suggests shoving cookies up Mario's *** and Bowser suggests having a picnic outside his lair. SMG3 refuses because his evil plan is the best. He gathers the villains and finds Bot crushing on the Nightmare Stone.
SMG3 and the villains plan to secure a death ray, which is under tight security. When one of the guards try to help, SMG3 shoots him. Silent Guy uses a bomb to blow up the security, allowing them access to the death ray. Once the death ray is operative, they use it to create a black hole in the sky.
Back at the castle, Mario and SMG4 start to spaz out along with X, until he snaps out of it and warns them of the doom he senses. The three then notice the black hole in the sky. Mario shoots Luigi, thinking he opened the black hole. SMG3 projects himself onto the window of Peach's Castle and tells how he created the black hole to destroy them. The heroes go with FM to find help.
SMG3 and the villains grow bored in the black void. SMG3 shows off his "death cannon", which is actually just a bullet bill launcher. Xboxfan996 gives SMG3 a nuke to fire out of it and a countdown activates.
Mario and friends see Bowser and he helps them defeat SMG3 because SMG3 called him fat. He hides them in a box and gives it to SMG3, leading him to believe its a box of cookies as apology for not joining his evil scheme. Mario and friends jump out of the box to attack. SMG4, X, and FM are captured shortly after. SMG3 takes Mario to his stolen battle arena and they duel after Mario trips. Even though SMG3 is winning the fight, Mario won't die so SMG3 pulls out his death cannon with the nuke inside which he will use to blow up Mario. When the cannon gets jammed the two stare at each other for several minutes, waiting for the cannon to fire. When it does fire it blows Mario and SMG3 up and destroys the black hole.
Bowser, the villains, and the caged heroes see this and Bowser offers to take everyone out for burgers. To which everyone happily cheers.
Main Characters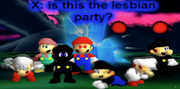 Supporting Characters
Minor Characters
Cameos
Trivia
| | |
| --- | --- |
| | "I have absolutely no idea what's going on." |
Community content is available under
CC-BY-SA
unless otherwise noted.