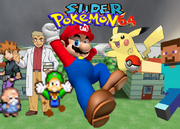 Super Pokeman 64 Bloopers is a series of bloopers made by SuperMarioGlitchy4 on 2014 and 2015. As its name indicates, it's based around Mario's adventures in the world of Pokemon. SMG4 was on hiatus with this series for unknown reasons.
The series started on February 2014 at the same period than the Guards N' Retards series, and currently has only three episodes. It stopped around 2014 and another episode was released on September 13th, 2015.
The first two episodes of this series have been released after a Guards N' Retards video (however, not every GNR blooper is followed by a Super Pokeman 64 episode, as there are more GNR videos than Pokeman 64).
The first two episodes have its title written in capital letters (not counting "Super Pokeman 64 Bloopers").
The game shown during the videos is from an MMO indie game known as Pokemon3D.
Community content is available under
CC-BY-SA
unless otherwise noted.