welcome to mah userpage! :D written by mario :D foundation
Some transcript
Mario:
Hello! Welcome to MeerkatMario's user page!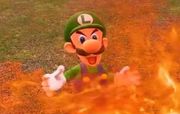 Bowser: Fabulous!
McShyGuy: YEAH TOAST!
Parakarry: MALE MOTHAF**KA!
Steve: HI GUYS!
SMG4: Umm...
Omochao: You have to saaave the world!
Sonic:
Does it look like I care?
Eggman: I am the best in the world!
Enzo: My party...RUINED!
Peach: Please kill me...
(All of a sudden...the background turns into the Teletubbies' house.)
Some kid (offscreen): Teletubbies!
Everyone: (screams)
My Color Code
WARNING: Parts of my color code may blend into the background when chroma keyed.
8107EC20 00FF
8107EC22 0000
8107EC24 00FF
8107EC26 0000
8107EC28 FF80
8107EC2A 4000
8107EC2C FF80
8107EC2E 4000
8107EC38 FF80
8107EC3A 4000
8107EC3C FF80
8107EC3E 4000
8107EC40 0080
8107EC42 FF00
8107EC44 0080
8107EC46 FF00
8107EC50 FF00
8107EC52 0000
8107EC54 FF00
8107EC56 0000
8107EC58 8000
8107EC5A FF00
8107EC5C 8000
8107EC5E FF00
8107EC68 FFFF
8107EC6A FF00
8107EC6C FFFF
8107EC6E FF00
8107EC70 0000
8107EC72 0000
8107EC74 0000
8107EC76 0000
8107EC80 FF00
8107EC82 8000
8107EC84 FF00
8107EC86 8000
8107EC88 80FF
8107EC8A FF00
8107EC8C 80FF
8107EC8E FF00
8107EC98 0000
8107EC9A FF00
8107EC9C 0000
8107EC9E FF00
8107ECA0 0000
8107ECA2 0000
8107ECA4 0000
8107ECA6 0000
Grouply Trio of Random Things
Don't look.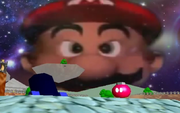 Hey, I found nothing here. Nope, just a
Mario Head
. Wait a minute--MARIO HEAD?!?! AAAAAAAAHHHHHHHHHHHHHHH!!!!!! I blame
you
and your
stupid spaghetti
! AAAAAHHHHHHHHHHHHHHHHHH!!!!
How Deceased People Died
This is a gallery of real and fake deceased people's last moments before/after death. With reasons. Listed by the number of mourns.
Pages I created
Luigi Kid (deleted)
Luigi (Mario Simulator) (deleted)
Mario (Mario Simulator) (deleted)
Mario (How to Make Spaghetti) (deleted)
Ragdolls (deleted)

Ragdoll Bowser
Ragdoll Mario
Other ragdoll forms
MeerkatMario Facts
I am a SM64 machinimist, like other users on this wiki such as Neilstar007.
Did you know? There are 23,287,195 users on this wiki. THAT'S OVER 9000!!!!!!!!!!!! (explodes)

There are also 314,698 edits, 3,022 articles and 23,593 files.

I am known as HassanLechkar on YouTube and deviantART.
I am also on Super Mario Wiki, Super Mario Boards, Fantendo, RMN, SuperMarioLogan Wiki, Oggy Wiki, YouTube, SMWCentral and Facebook.
I put non-Mario characters as minor characters in my bloopers (like SMG4 puts Teletubbies in his bloopers), such as Oggy from Oggy and the Cockroaches.
The Slideshow of Things
Coming up next..."Random Character". So check ALL of the photos and get to the next section, which is "Random Character"!
My favorite things
Well, I watch SMG4's videos often. I like so much animated TV series, such as Sabrina: the Animated Series, Taz-Mania, Danger Mouse, Tom & Jerry, and Count Duckula, among others. I also like the Diary of a Wimpy Kid book series and the Alvin & the Chipmunks films. I also like watching SuperMarioLogan's plush movies.
Random Character
Hello! It's me,
Rocks
, your local wizard. Let me look into the Warp Pipe and guess who's coming out. Alakazoo alaska aliqkkqmqk, lalkzjlkejmkl, kqq,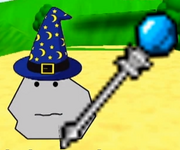 okasqaka okasqaka... *waves wand*
Now, if you want something, feel free to ask Rocks. Now, let me tell you your character........ *the sky turns dark and a light can be seen from the Warp Pipe*
Now scroll down a little bit, a-a-and...rea-a-a-a-d this...b-e-e-cause I'm sc-c-cared...well...a little bit.
Your character's details:
He's Australian, he's a YouTuber and his best friend is X.
Your character is...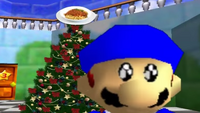 "And a bowl OAOAOAF cooked spaghettiiiiiii-(vomits)"
The character's name is
SMG4
. He's a nice guy and all, but sometimes he doesn't appear.
Well, I hope you enjoyed this, because some woman who has black hair and is Toad's mom wouldn't be able to, and would probably be pooping on her husband right now instead. :/ So...thanks, goodbye, hasta la vista, adios amigos, s'lama, au revoir, arriverci, thank you, and come again!
To restart and choose another character, click here. (NOTE: You'll start back up at the top of this userpage. Come here anytime, m'kay?)
And now, let me bring you the NUMBERS OF CHRISTMAS! :D
Numbers of Christmas
| Character | Picture | Lyric Line |
| --- | --- | --- |
| SMG4 | | A bowl of cooked spaghetti |
| Luigi | | 2 Teletubbies |
| Peach | | 3 MAGIC ROCKS! |
| Mario | | 4 pissed off cops |
| Toad | | FFIIVVEE HHOOUURRSS OF JUSTIIN BIIEEBBEERR!!! |
| Wario | | 6 pianos chomping |
| Steve | | 7 SEXY SURPRISES |
| Narrator | | 8 Retarded jokes. |
| Bowser | | 9 ass whippings |
| Old Man? | | 10 Pikachus |
| Waluigi | | 11 Shirtless Men |
| Weegee | | Weegee weegee weegee |

Twelve pikachus?
BUT ONE THING: RANDOM SCREENSHOT COMING UP NED-er, NEXT!
Random Screenshot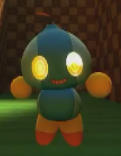 Gallery of SSENMODNAR?
Welcome to the world of
Ssenmodnar 10
. This number automatically updates with the latest Ssenmodnar video, so err...bring me 5 Koopas with Goomba sauce on them?





Community content is available under
CC-BY-SA
unless otherwise noted.